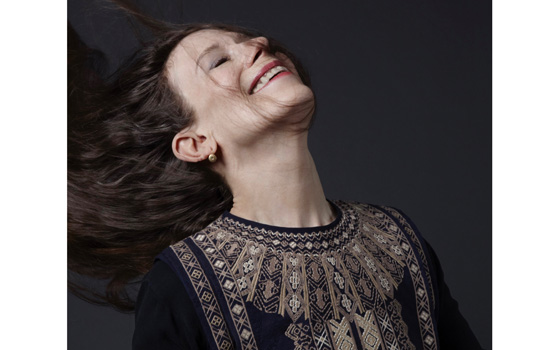 Meredith Monk and Vocal Ensemble: Cellular Songs (Work in Progress)
Sunday, November 12, 2017 at 7:00pm
Crowell Concert Hall

$15 general public; $12 senior citizens, Wesleyan faculty/staff/alumni, non-Wesleyan students; $6 Wesleyan students, youth under 18 (Reserved Seating)
There will be a pre-performance discussion at 6:15pm in the lower lobby of Crowell Concert Hall with DanceLink Fellow Adriana Phillips '18.

"Visceral and ethereal, raw and rapt."
—The New Yorker

As the culmination of her residency at Wesleyan, Meredith Monk will be joined by the women of her GRAMMY Award-nominated Vocal Ensemble—Ellen Fisher, Katie Geissinger, Allison Sniffin, and Jo Stewart—in a work in progress showing of Cellular Songs, the newest in a series of her music theater pieces that explore our interdependent relationship with nature while seeking to evoke the ineffable. The work, at once playful and contemplative, weaves together her adventurous and daring vocal music with movement.

Cellular Songs will premiere in New York City in March 2018.

The performance at Wesleyan will be one hour long. 

This residency is supported by the College of the Environment and the Institute for Curatorial Practice in Performance at Wesleyan. This project is supported in part by an award from the National Endowment for the Arts.




In December 1999, Meredith Monk gave the John Spencer Camp Lecture in World Music Hall. 

In November 1985, Meredith Monk performed a concert of experimental music at Wesleyan University with Professor of Music and Director of the Electronic Music and Recording Studios Ron Kuivila, John Spencer Camp Professor of Music Emeritus Alvin Lucier, and Thomas Ridenour. 

Meredith Monk has collaborated over half a dozen times with with Ping Chong, on Chacon (1975), Paris (1982), View No.1 (1982), Turtle Dreams (Waltz) (1983), The Games (1983), and Window Song (1985).