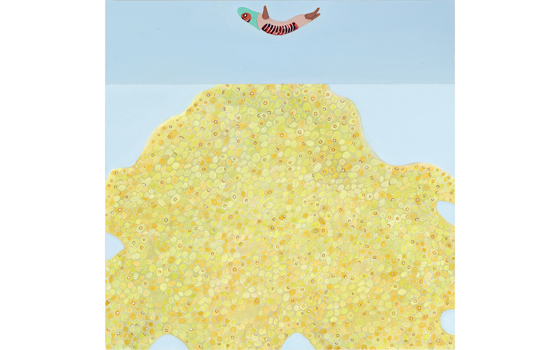 Artist Talk: Laylah Ali
Wednesday, November 15, 2017 at 5:00pm
Ring Family Performing Arts Hall

FREE! Open to the public.
Black Pulp! exhibition artist Laylah Ali is best known for her paintings of meticulously drawn, colorful allegorical figures, including her long running "Greenheads Series" and her newest work "The Acephalous Series."

Talk co-sponsored by the Department of Art and Art History.

Exhibition on display through Sunday, December 10, 2017. Closed Monday, November 20 through Monday, November 27, 2017.

Black Pulp! is curated by William Villalongo and Mark Thomas Gibson. The exhibition tour is organized by International Print Center New York.
The exhibition is co-sponsored at Wesleyan by the Center for the Arts, Center for African American Studies and African American Studies Program.

Thumbnail image: Laylah Ali (American, b.1968), Untitled, from the "Bloody Bits Series," 2004. Mixed media on paper. 9 x 6 inches. Courtesy of the Artist and Paul Kasmin Gallery. Image © 2017 Laylah Ali.

Image above: Laylah Ali (American, b.1968), Sky, 2014. Gouache and acrylic on board​. Courtesy of the artist.
Click here to see photos from this event.