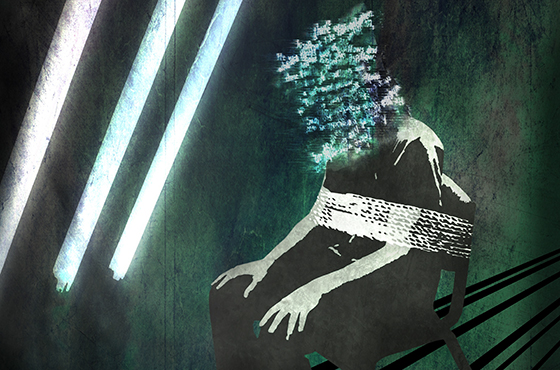 The Pillowman (2003) by Martin McDonagh
Thursday, November 16, 2017 at 8:00pm
CFA Theater

$8 general public; $5 senior citizens, Wesleyan faculty/staff/alumni, non-Wesleyan students; $4 Wesleyan students, youth under 18
Friday, November 17, 2017 at 8:00pm
CFA Theater

$8 general public; $5 senior citizens, Wesleyan faculty/staff/alumni, non-Wesleyan students; $4 Wesleyan students, youth under 18
Saturday, November 18, 2017 at 2:00pm
CFA Theater

$8 general public; $5 senior citizens, Wesleyan faculty/staff/alumni, non-Wesleyan students; $4 Wesleyan students, youth under 18
Saturday, November 18, 2017 at 8:00pm
CFA Theater

$8 general public; $5 senior citizens, Wesleyan faculty/staff/alumni, non-Wesleyan students; $4 Wesleyan students, youth under 18
A famous author of macabre stories is held in custody for a series of gruesome child murders that mirror the author's voice and details. When the detectives investigating these cases get caught up in this psychological thriller, the darker aspects of the human condition are revealed. 

Directed by Assistant Professor of the Practice Edward Torres.

The Wesleyan production of The Pillowman is set in late 1980s/mid-1990s America under a totalitarian/dictator state. The production features a minimal set design by Emmie Finckel '14, sound design by Anthony Dean '17, fight choreography by Sean Chin '09, and twelve Wesleyan undergraduate students including two separate lead casts with different gendered actors playing the lead roles in alternating performances. Campus hip hop artists also contribute original music narration with rap verses in French and Chinese.
"The Pillowman is a play about storytelling—how we see the world affects people's perceptions on so many levels," said director and Assistant Professor of the Practice Edward Torres, a former criminal defense investigator. "I picked this play because of the subject of police torture, but also because of the bigger questions: 'what is justice?' 'How do we seek it?' It is a brutal play, and is difficult for students to act. It is also a challenge for the audience to follow the story without getting enraged by the emotional subject matter."
The performance of The Pillowman is two hours with one intermission. There will be a post-performance discussion with director and Assistant Professor of the Practice Edward Torres following each performance.
CONTENT WARNING:
This production contains gore, graphic violence, and explicit language—including racially-charged dialogue and profanity. The content of this production also includes accounts of child abuse, sexual assault, and child murder, as well as harrowing depictions of mental illness. This production contains scenes that some individuals may find disturbing or may cause physical discomfort, such as gunshots, fog, and strobe lights.
Click here to see photos from this event.