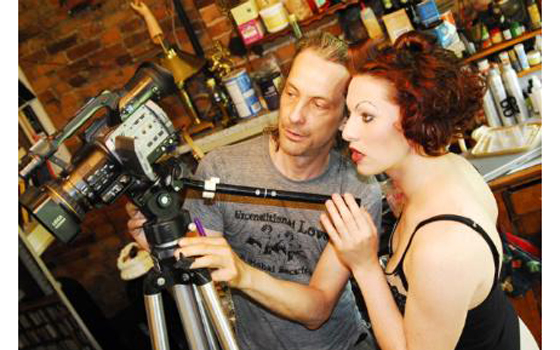 A Screening and Discussion with Amanda Palmer, Michael Pope, and Students from "The Art of Doing"
Saturday, December 9, 2017 at 8:00pm
Goldsmith Family Cinema, Center for Film Studies

FREE! Limited seating, first-come, first-served. Doors open at 7:30pm.
Wesleyan students in award-winning Visiting Filmmaker Michael Pope's filmmaking class "The Art of Doing: Creative Project Production and Making It Happen" present their final project, followed by a brief performance by singer/musician/writer Amanda Palmer '98, Visiting Artist at Large in the College of Film and the Moving Image.

Click here to read a Q&A with Michael Pope and Amanda Palmer about their experience teaching together during the semester.

Poster image features Audrey Pratt '21, a student in "The Art of Doing;" photo by Ariel Adler '20.
Click here to see photos from this event.