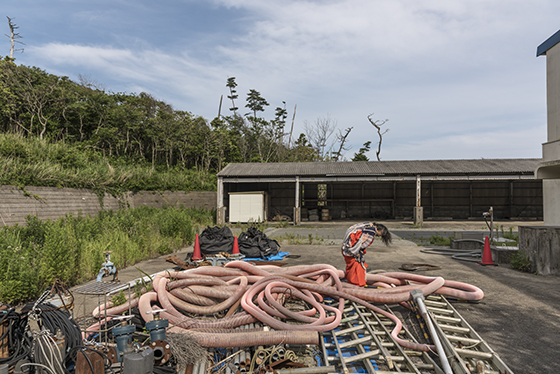 Reception: Eiko Otake and William Johnston — A Body in Fukushima: Recent Work Exhibition
Thursday, February 1, 2018 at 4:00pm
South Gallery, Ezra and Cecile Zilkha Gallery

FREE! Open to the public.
There will be remarks by the artists at this reception.

This exhibition is on view from Thursday, January 25 through Thursday, February 15, 2018 

Eiko Otake is a dancer and performer who has received numerous awards, including a MacArthur Fellowship, Doris Duke Artists Award, Guggenheim Fellowship, and Anonymous was a Woman Award. She is the Menakka and Essel Bailey '66 Distinguished Visiting Scholar in the College of the Environment. William Johnston is a photographer and Professor of History, East Asian Studies, Science in Society, and Environmental Studies at Wesleyan University.

Since their initial groundbreaking exhibition from the ongoing project A Body in Fukushima across all three of Wesleyan's galleries from February through May 2015, Eiko Otake and William Johnston have visited Fukushima on two more occasions, in the summers of 2016 and 2017. They have witnessed the changing landscape after it suffered the earthquake, tsunami, and meltdowns of the Daiichi nuclear plant in 2011. In the fall of 2017, Eiko created a seven and a half hour video from thousands of Johnston's photographs taken in Fukushima. Eiko performed while projecting the video all day at the three different locations of The Metropolitan Museum of Art in New York. The current exhibition at Wesleyan will feature the newly edited Fukushima video, and several large scale prints of recent photographs of Eiko's performances, both in Fukushima and at the Met.

Photos and videos from A Body in Fukushima have been exhibited in numerous locations, including Jacob's Pillow Dance Festival, The Cathedral of St. John the Divine (New York), Brown University, Columbia University, Centro Cultural Gabriela Mistral (Santiago, Chile), the Gallery of Contemporary Art (Colorado Springs, Colorado), and the Pennsylvania Academy of Fine Arts (Philadelphia).




This exhibition is co-sponsored by the College of the Environment. The photographs were printed during the 2017 Rauschenberg Foundation Residency to which both Eiko and Johnston were invited.

For further information about this project, please visit eikoandkoma.org/abodyinfukushima
Image above: Eiko in Fukushima, Tomioka Municipal Sanitation Plant, 26 June 2017, No 257, Photo by William Johnston.
Image thumbnail from events page: Namie Ukedo Beach, 27 June 2017, No 452 (detail), photo by William Johnston.