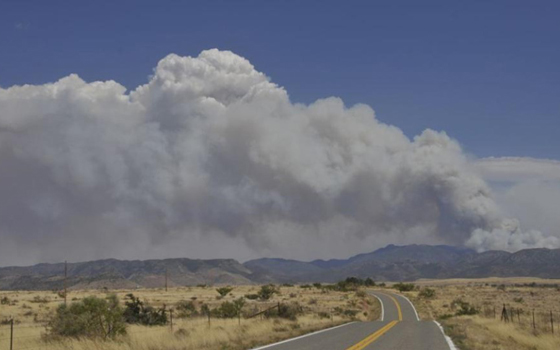 Facing Disasters: Disturbing the Human-Environment Relationship
Friday, March 2, 2018 at 4:00pm
Memorial Chapel and Zelnick Pavilion, 221 High Street, Middletown
FREE!
College of the Environment Think Tank presents
a provocation / an invitation
Facing DisastersDisturbing the Human-Environment Relationship
How do we face disasters? Sometimes we live through them, other times we experience them indirectly from a distance. How can we make such distances malleable? How can we transform ourselves from being passive observers to agents of change? How can we use our knowledge of disaster to motivate action?
In this multi-disciplinary event, College of the Environment Fellows, Wesleyan University students and alumni will explore these ideas and present commissioned works including dance, music, and paintings that engage with the 2017-18 College of the Environment Think Tank theme, "From Disruptions to Disasters."
The event will feature work by
Andrew Barton
; University Organist and Artist in Residence
Ronald Ebrecht
; 
Vaishvi Jhaveri
'18; Professor of History, East Asian Studies, Science in Society, and Environmental Studies
William Johnston
; Associate Professor of Dance, Environmental Studies, Russian, East European, and Eurasian Studies, and Chair of the Dance Department
Katja Kolcio
; Fisk Professor of Natural Science, Professor of Molecular Biology and Biochemistry and Integrative Sciences
Ishita Mukerji
; Assistant Professor of English and East Asian Studies
Marguerite Nguyen
; Menakka and Essel Bailey '66 Distinguished Visiting Scholar in the College of the Environment
Eiko Otake
; 
Ostin Pham
'17; Adjunct Assistant Professor of Environment Studies
Helen Poulos
;
Paula Tartell
'18;
Nora Thompson
'15; and
Shingo Umehara
'18.
Commissioned works include those by
Melissa Joskow
'18, graduate music student
James Falzone
,
Giorgia Peckman
'18,
Danielle Krieger
'19, 
Shea Fitzpatrick
'18, and
Will Freudenheim
'18.
Following the event from 4pm to 6:30pm, there will be a film screening of graduate music student
Jordan Dykstra
's "No Going Back Before Present" from 7pm to 8pm.
Presented by the College of the Environment Think Tank with support from the Center for the Arts.
Photo by Helen Poulos.