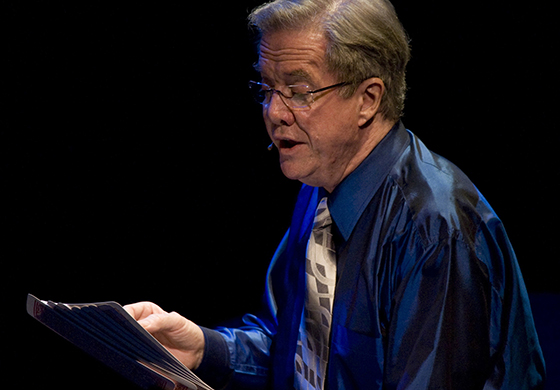 Thomas Buckner sings Robert Ashley and Alvin Lucier
Friday, March 2, 2018 at 8:00pm
Crowell Concert Hall

FREE!
Baritone Thomas Buckner, a longtime Robert Ashley collaborator, performs works written for him, including The Producer Speaks featuring John Spencer Camp Professor of Music Neely Bruce on piano, Tract, and The Mystery of the River arranged by Tom Hamilton; plus Litany, a new work written for this celebration by Alvin Lucier, John Spencer Camp Professor of Music, Emeritus. Assisted by Visiting Assistant Professor of Music Alex Waterman. Associate Professor of Music and Chair of the Music Department Paula Matthusen will direct the chorus, and graduate music students Jordan Dykstra and Matt Wellins will work on recording and playback.

Photo of Tom Buckner by Marco Caselli.
Click here to see photos from this event.