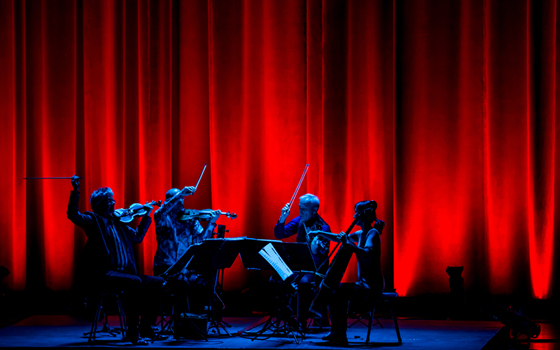 What's David Listening To? A Listening Session with David Harrington
Sunday, April 15, 2018 at 10:30am
World Music Hall

$20 general public, $5 Wesleyan faculty/staff; free for Wesleyan students
$5 discount on listening session for general public who purchase tickets to the
evening concert
.
Bagels and coffee available at 10:30am. One hour listening session begins at 11am.
David Harrington
, artistic director, founder, and violinist of the
Kronos Quartet
, wears headphones more often than not, and his playlists tend to be unfathomably diverse—past listening sessions have included material from Icelandic pop giants Sigur Rós to running sled dogs in the Arctic; ambient/techno beatsmith Aphex Twin to Azerbaijani folk songs; even Richard Wagner's fifteen-hour
Ring
 cycle compacted into one minute. This is a rare opportunity to try on the keen ears of the new music fiend who made the Kronos Quartet one of the most prolific new music ensembles of all time, with over 950 commissioned works written for them over the group's four-decade history.
Though he is liable to play whatever's on his mind, his selections at Wesleyan might shed light on the conceptual provenance of the Kronos Quartet's recent catalog. In the past year alone, the quartet has released album-length collaborations with avant-garde juggernaut Laurie Anderson and Malian griot outfit Trio Da Kali, and new arrangements of traditional folk songs with Natalie Merchant, Rhiannon Giddens, Sam Amidon, and Olivia Chaney. They also contributed to new releases by the San Francisco Girls Chorus and Semisonic's Dan Wilson, an all-star tribute to Big Star, and the haunting soundtrack for the video game
Destiny 2
. One might also expect a nod to the New York City post-minimalists, some of the Kronos Quartet's most frequent collaborators—their disc of compositions by Michael Gordon,
Clouded Yellow
, is due out on Cantaloupe Music in May.