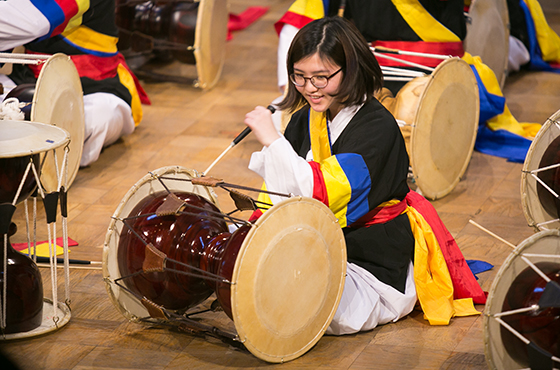 Wesleyan Korean Drumming and Creative Music Ensemble
Wednesday, April 25, 2018 at 7:00pm
World Music Hall

FREE!
Beginning students of Wesleyan's
Korean Drumming and Creative Music Ensemble
, directed by Visiting Assistant Professor of Music
Jin Hi Kim
, play new arrangements of
samulnori
repertoire, performed on two-headed drums (
janggo
), barrel drums (
buk
), hand gongs (
kwenggari
), and a suspended gong (
jing
). The group will play a variety of mesmerizing
janggo
rhythmic patterns, and also create new pieces, discovering the sounds that are possible through imaginative explorations on their instruments.