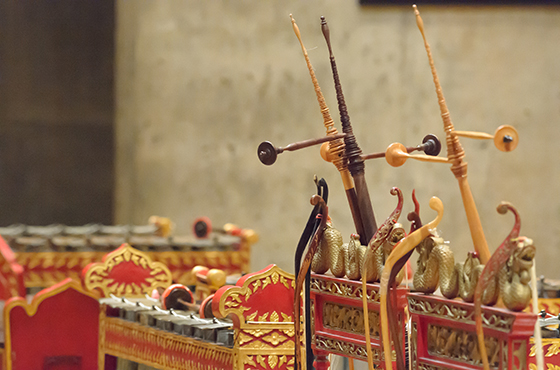 Wesleyan Gamelan Ensemble and Javanese Dance
Thursday, April 26, 2018 at 8:00pm
World Music Hall

FREE!
A magnificent orchestra of bronze gongs, xylophones, drums, strings, and voices, the gamelan accompanies feasts, ceremonies, and dances. The
Wesleyan Gamelan Ensemble
, under the direction of Artist in Residence
I.M. Harjito
and Winslow-Kaplan Professor of Music
Sumarsam
, presents classical music and dance of Central Java, featuring master dancer/Visiting Artist in Residence
Pamardi Tjiptopradonggo Silvester
, Retired Dance Artist in Residence
Urip Sri Maeny
, and Ph.D. candidate in Ethnomusicology
Maho Ishiguro
.