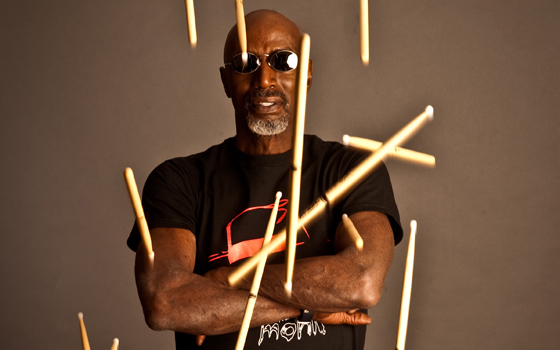 Celebrating 100 Years of Thelonious Monk featuring the T.S. Monk Sextet
Saturday, April 28, 2018 at 8:00pm
Crowell Concert Hall

$28 general public; $26 senior citizens, Wesleyan faculty/staff/alumni, non-Wesleyan students; $6 Wesleyan students, youth under 18 (Reserved Seating)
The concert opens with members of the Wesleyan Jazz Orchestra, directed by Jay Hoggard, performing compositions by Thelonious Monk at 7:45pm.
Bandleader T.S. Monk has recorded numerous albums of his own compositions, as well as those of his father, pianist Thelonious Monk (1917-1982). He toured with his father, and honored him by co-founding the Thelonious Monk Institute of Jazz in 1986. Currently based in New Jersey, T.S. Monk has "charted his own course as a composer, arranger and melodic drummer" (NPR).

T.S. Monk will be joined by Theo Hill on piano, Willie Williams on tenor saxophone, Randall Haywood on trumpet, April May Webb on vocals, Patience Higgins on alto saxophone and flute, and Christopher Berger on bass. 

There will be a free masterclass with T.S. Monk at 4pm in Adzenyah Rehearsal Hall, Daltry Room 003, 60 Wyllys Avenue, Middletown.

This concert concludes the 17th annual Wesleyan Jazz Orchestra Weekend.
Article and video with T.S. Monk talking about his father, pianist Thelonious Monk.
Click here to see photos from this event.