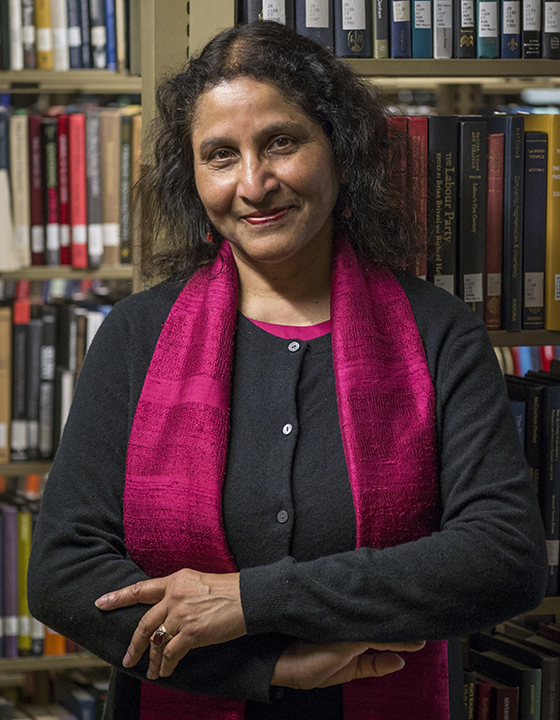 Navaratri Festival Colloquium: Temples, Sanskrit, and Tamil in the Karnatak Songs of Muttusvami Dikshitar
Thursday, October 11, 2018 at 4:30pm
Ring Family Performing Arts Hall

FREE!
The 42nd annual Navaratri Festival Music Department Colloquium features a lecture by Dr. Indira Viswanathan Peterson entitled Temples, Sanskrit, and Tamil in the Karnatak Songs of Muttusvami Dikshitar.
Among the major composers of the 19th-century canon of Karnatak music, Muttusvami Dikshitar is distinguished by a corpus of kriti songs in Sanskrit, dedicated to numerous deities in the Hindu pantheon, and demonstrating the subtleties of ragas in a stately and majestic style. In this presentation, Dr. Peterson will illustrate the deep connections manifested in Dikshitar's kritis, not only with esoteric Sanskrit mantras and stotra hymns, but with local Tamil temple tradition and iconography, and above all the Tevaram, the foundational Tamil hymns to Shiva authored by Nayanar saint-poets in the Kaveri delta in the 6th to the 8th centuries. Focusing on Dikshitar songs on the goddess Kamalamba and the god Tyagaraja in Tiruvarur, and on deities in other temples, she will demonstrate the mingling of linguistic, musical and cultural streams in Dikshitar's songs. Methodically treating south Indian ragas along with north Indian ones, these Sanskrit kritis are framed in a shared Dravidian (southern) prosody. Steeped in the lore of delta temples like the Nayanars' hymns, they embody specific envisionings of deities as icons, invoking their particular names and their temple abodes. Dikshitar's kritis are musical icons of a uniquely south Indian habitus of space, place, deity and song.

Dr. Indira Viswanathan Peterson is Professor of Asian Studies, Emerita, at Mount Holyoke College. She specializes in Indian literature (Sanskrit, Tamil and Marathi), Hinduism, south Indian cultural history, Karnatak music and south Indian performing arts, European-Asian culture contact, and comparative literature. She has published widely on these subjects. She has held a number of research fellowships, including fellowships from the Guggenheim Foundation, the American Council of Learned Societies and the National Endowment for the Humanities.
Listen to a performance by and interview about the Navaratri Festival with vocalist and Adjunct Associate Professor of Music B. Balasubrahmaniyan and Adjunct Assistant Professor of Music David Nelson on mridangam on the Center for the Arts Radio Hour here: