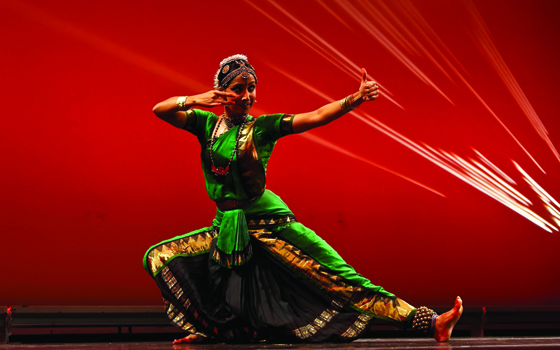 Mythili Prakash
Sunday, October 14, 2018 at 3:00pm
Crowell Concert Hall

$28 general public; $26 senior citizens, Wesleyan faculty/staff/alumni, non-Wesleyan students; $6 Wesleyan students, youth under 18
"From the first moment, music and dance worked together in trance-inducing harmony."
—The New York Times

The dynamic Mythili Prakash began her career as a Bharata Natyam performer at the age of eight. Since 1990, she has toured as a soloist in the United Kingdom, Scotland, France, Singapore, the United States, and Mexico. Highly acclaimed for her virtuosic skill as a performer, she stays deeply rooted in the inherent spirituality of the art form, which is the driving inspiration of her choreographic explorations. She was also cast in the award-winning film Life of Pi (2012).

She makes her Connecticut debut to conclude the 42nd annual Navaratri Festival at Wesleyan.

Associate Professor of Dance Hari Krishnan will engage in a post-performance discussion with Mythili Prakash and her musicians.

Listen to a performance by and interview about the Navaratri Festival with vocalist and Adjunct Associate Professor of Music B. Balasubrahmaniyan and Adjunct Assistant Professor of Music David Nelson on mridangam on the Center for the Arts Radio Hour here:



Click here to see photos from this event.