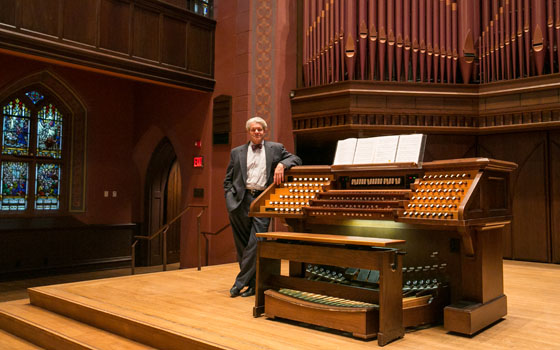 Rags and Riches for the Harpsichord (New title and description)
Thursday, November 15, 2018 at 6:00pm
Memorial Chapel, 221 High Street, Middletown
FREE!
To celebrate the arrival of the Frank Hubbard harpsichord modeled on Taskin, Artist in Residence and University Organist
Ronald Ebrecht
will perform a program to show the variety of musical styles possible on this instrument. In addition to harpsichord works by the trio Bach, Handel and Scarlatti—all born in 1685—he will present three works not usually played on the harpsichord by Ernesto Nazareth, William Bolcom, and Scott Joplin. In addition, the concert will feature the
Suite III
by Elisabeth-Claude Jacquet de la Guerre. This concert is part of a multi-event celebration of Mr. Ebrecht's 30 years at Wesleyan, and a chance to appreciate his artistry not just at the organ but at the harpsichord.
Listen to an interview with and performance by Ronald Ebrecht on harpsichord in Memorial Chapel, featuring Johann Sebastian Bach's "Concerto in the Italian Style" from "Klavierübung II;" Élisabeth-Claude Jacquet de la Guerre's "Suite III;" three sonatas by Domenico Scarlatti; and Ernesto Nazareth's "Garôto;" on the Center for the Arts Radio Hour: