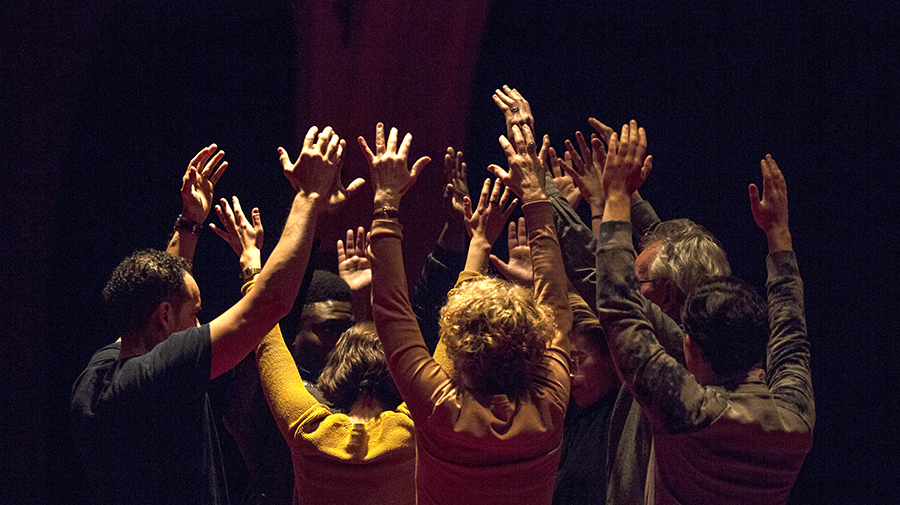 600 HIGHWAYMEN: The Fever
Thursday, February 28, 2019 at 7:30pm
CFA Theater

$28 general public; $26 senior citizens, Wesleyan faculty/staff/alumni, non-Wesleyan students; $6 Wesleyan students, youth under 18
Friday, March 1, 2019 at 7:30pm
CFA Theater

$28 general public; $26 senior citizens, Wesleyan faculty/staff/alumni, non-Wesleyan students; $6 Wesleyan students, youth under 18
Saturday, March 2, 2019 at 2:00pm
CFA Theater [CANCELED]

$28 general public; $26 senior citizens, Wesleyan faculty/staff/alumni, non-Wesleyan students; $6 Wesleyan students, youth under 18
Saturday, March 2, 2019 at 7:30pm
CFA Theater

$28 general public; $26 senior citizens, Wesleyan faculty/staff/alumni, non-Wesleyan students; $6 Wesleyan students, youth under 18
"Bold and daring...a ritual that taps the sacred and the profane, the essence of human existence."
—Exeunt Magazine

Brooklyn-based theater artists Abigail Browde and Michael Silverstone have performed as the duo 600 HIGHWAYMEN since 2009. The Connecticut premiere of The Fever (2017) tests the limits of individual and collective responsibility, and our willingness to be there for one another. Performed in complete collaboration with the audience, The Fever examines how we assemble, organize, and care for the bodies around us. Who will you be when our eyes are on you? What will we see when we all look your way?
Funded in part by the New England Foundation for the Arts' National Theater Project, with lead funding from The Andrew W. Mellon Foundation and support from the Doris Duke Charitable Foundation.
 
The Fever - promo trailer from 600 HIGHWAYMEN on Vimeo.
Listen to an interview with Abigail Browde and Michael Silverstone of 600 HIGHWAYMEN by Associate Director for Programming and Performing Arts Fiona Coffey on the Center for the Arts Radio Hour:



Listen to a conversation with Director of the Center for the Arts Sarah Curran and Associate Director for Programming and Performing Arts Fiona Coffey about some of the highlights of the spring 2019 season at Wesleyan on the Center for the Arts Radio Hour: