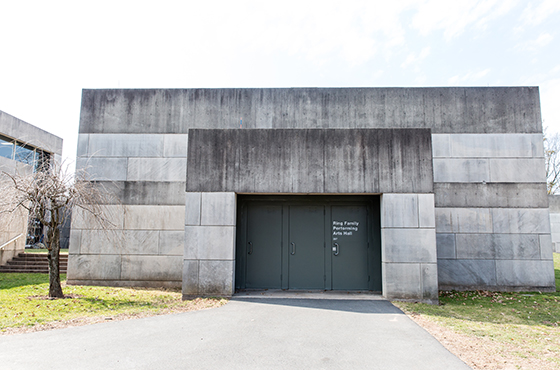 Louise Nevelson: Modernist Drag—Art Lecture by Julia Bryan-Wilson [CANCELED]
Monday, March 25, 2019 at 4:30pm
Ring Family Performing Arts Hall

FREE!
Silipo Art and Art History Lecture by Julia Bryan-Wilson, Doris and Clarence Malo Professor of Modern and Contemporary Art at the University of California, Berkeley. Sponsored by the Samuel Silipo '85 Distinguished Visitor's Fund, Department of Art and Art History, and the Feminist, Gender, and Sexuality Studies Program.
Julia Bryan-Wilson (Doris and Clarence Malo Chair and Professor of Modern and Contemporary Art) teaches art since 1945 in the US, Europe, and Latin America; she is also the Director of the UC Berkeley Arts Research Center. Her research interests include theories of artistic labor, feminist and queer theory, performance and dance, production/fabrication, craft histories, photography, video, visual culture of the nuclear age, and collaborative practices. She is the author of Art Workers: Radical Practice in the Vietnam War Era (University of California, 2009, named a best book of the year by The New York Times and Artforum); Art in the Making: Artists and Their Materials from the Studio to Crowdsourcing (with Glenn Adamson, Thames & Hudson, 2016); and Fray: Art and Textile Politics (University of Chicago, 2017, a New York Times best art book of the year and winner of the Frank Jewett Mather Award, the Robert Motherwell Book Award, and the Association for the Study of the Arts of the Present Book Prize). She is the editor of OCTOBER Files: Robert Morris (MIT Press, 2013), and co-editor of two special journal issues ("Visual Activism," Journal of Visual Culture, 2016; and "Time Zones: Durational Art in its Contexts," Representations, 2016).

Bryan-Wilson is a consulting curator at the Museu de Arte de São Paulo. With Andrea Andersson, she curated Cecilia Vicuña: About to Happen, which opened at the Contemporary Arts Center New Orleans in 2017 and travels to the Berkeley Art Museum, the Henry Art Gallery, and the ICA Philadelphia. She is currently writing a book about Louise Nevelson (under advanced contract with Yale University Press).