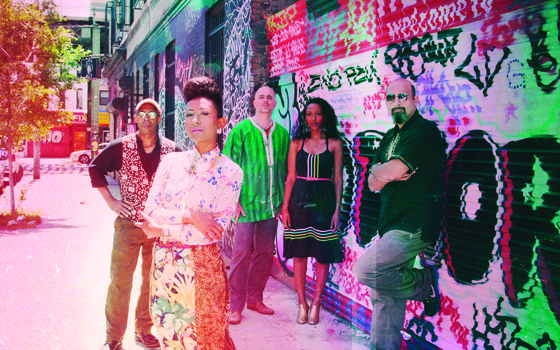 Alsarah and The Nubatones
Friday, March 29, 2019 at 7:30pm
Crowell Concert Hall

$28 general public; $26 senior citizens, Wesleyan faculty/staff/alumni, non-Wesleyan students; $6 Wesleyan students, youth under 18
"In their hands, the music pulses, breathes and comes alive with a mix of tradition and contemporary influences."
—NPR Music

Singer/songwriter Alsarah was born in Khartoum, the capital city of Sudan. As a Brooklyn-based ethnomusicologist, she is used to fusing the sounds and styles of disparate cultures. As the leader of The Nubatones—percussionist Rami El-Aasser, bassist Mawuena Kodjovi, oud (stringed instrument) player Brandon Terzic, and background vocalist Nahid—she performs lavish, joyful East African retro-pop, full of Arabic-language reflections on identity and survival.

This performance at Wesleyan will be the Connecticut debut of the band.
Click here to see photos from this event.


Listen to an interview with singer, songwriter, and bandleader Alsarah, featuring the tracks "Ya Watan," "3roos Elneel," "Fulani," "Salam Nubia," "Alforag," "Albahr," "3yan T3ban," "Nar," "Manara," "Asilah," and "Habibi Taal," from the Center for the Arts Radio Hour:



Listen to a conversation with Director of the Center for the Arts Sarah Curran and Associate Director for Programming and Performing Arts Fiona Coffey about some of the highlights of the spring 2019 season at Wesleyan on the Center for the Arts Radio Hour: