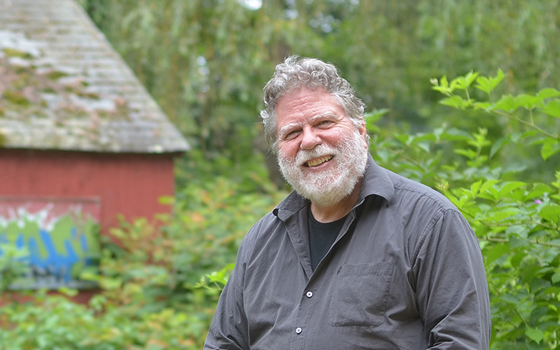 This Is It! The Complete Piano Works of Neely Bruce: Part XVII
Sunday, March 31, 2019 at 3:00pm
Crowell Concert Hall

FREE!
John Spencer Camp Professor of Music Neely Bruce presents the seventeenth and final concert in a series of CD-length recitals of his piano music, featuring the Fifth Piano Sonata; the rest of the Friendly Fugues, including "A Double Fugue for Kay Briggs" (the widow of Professor Emeritus Morton W. Briggs), plus three world premieres including "A Fugue for Elena Bruce;" and the world premiere of a bonus fugue by Robert Carl on the name "Neely Bruce."
Click here to see photos from this event.

Listen to a conversation between Neely Bruce and composer, scriptwriter, and essayist Michael Kowalski from the Center for the Arts Radio Hour. Featuring Neely Bruce performances of his "The Feline Sea" from his 2015 album with composer Robert J. Martin "Playful Edge of the Wave: Image-Based Music for Solo Piano" (Ravello Records); "Pandiatonic Study No. 3" from "This Is It!" Part 12 on July 16, 2017; "Two Fiddle Tunes: 'Country Dance' from 'Americana,' and 'Old Joe Clark' (arranged by Neely Bruce)" from "This Is It!" Part 14 on February 25, 2018; "Chopin Jam No. 3" from "This Is It!" Part 10 on September 25, 2016; "A Fugue for Katchen Coley" from "This Is It!" Part 2 from February 16, 2014; "Nocturne No. 1;" "Furniture Music in the Form of 50 Rag Licks" from "This Is It!" Part 6 on July 12, 2015; and "Napoleon at Junior's [Piano Rock Album No. 3]" from "This Is It!" Part 7 on November 1, 2015.




Read the Middletown Press article "Middletown names Neely Bruce Music Ambassador."