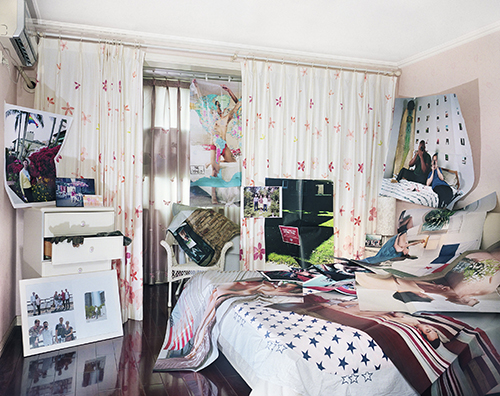 Guanyu (Gary) Xu: Temporarily Censored Home Opening Reception and Artist Talk
Thursday, February 6, 2020 at 12:00pm
College of East Asian Studies Gallery at Mansfield Freeman Center
FREE!
Join us for the opening reception of Guanyu (Gary) Xu: Temporarily Censored Home with a talk by the artist.
Guanyu (Gary) Xu grew up in Beijing, China and moved to the U.S. in 2014 to attend the School of the Art Institute of Chicago. Temporarily Censored Home depicts a series of installations of his photographs that he incorporated into the rooms of his childhood house while his parents were at work.
The piece is informed in part by the disconnect between his life in the United States, where he goes by "Gary" and is openly gay; and his life back home with his parents, to whom he is not out. This installation will include five photographs from the series and one wall vinyl installation. In addition, he will also show Complex Formation (2019), a single-channel video he made by editing cellphone images taken by his mother during three trips they took together to the U.S. and Europe, combined with a 3D animation made by the artist. The video is accompanied by a monologue and conversation with his mother on their varying ideas of art, cultural influence, the American Dream, the ideal life, safety in both the U.S. and China, and the potentiality of the future.
For more information, visit the College of East Asian Studies at Mansfield Freeman Center website.
Image: Guanyu (Gary) Xu, Temporarily Censored Home, 2018.