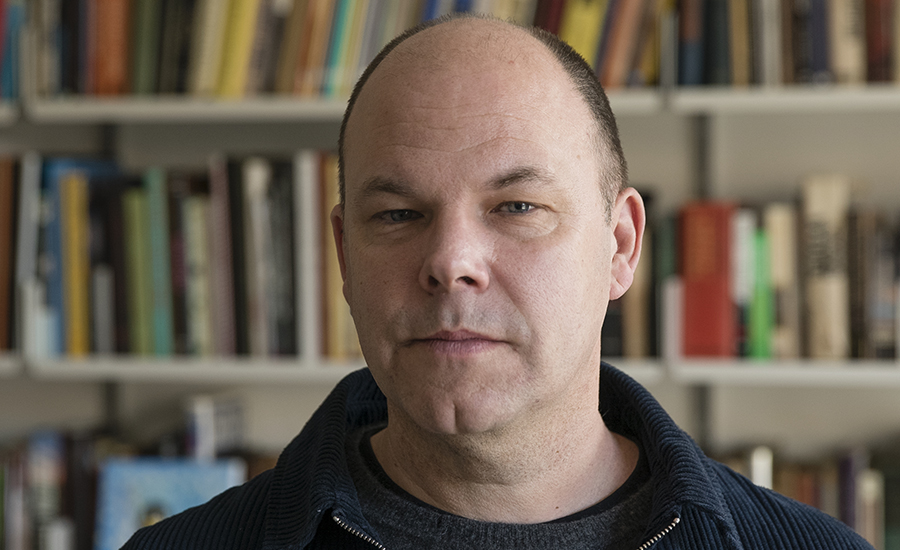 Talk by David Grubbs
Tuesday, February 11, 2020 at 12:00pm
Adzenyah Rehearsal Hall 003 (Daltry Room)
FREE!
Musician/composer David Grubbs will read from his upcoming book, The Voice in the Headphones.
David Grubbs is Professor of Music at Brooklyn College and The Graduate Center, CUNY. At Brooklyn College he also teaches in the MFA programs in Performance and Interactive Media Arts (PIMA) and Creative Writing. He is the author of Now that the audience is assembled and Records Ruin the Landscape: John Cage, the Sixties, and Sound Recording (both Duke University Press) and, with Anthony McCall, Simultaneous Soloists (Pioneer Works Press). In the spring of 2020, Duke University Press will publish The Voice in the Headphones, Grubbs's second experiment in music writing in the form of a book-length poem.

Grubbs has released fourteen solo albums and appeared on more than 190 releases; his most recent solo recording is Creep Mission (Blue Chopsticks, 2017). In 2000, his The Spectrum Between (Drag City) was named "Album of the Year" in the London Sunday Times. He is known for his ongoing cross-disciplinary collaborations with poet Susan Howe and visual artists Anthony McCall and Angela Bulloch, and his work has been presented at, among other venues, the Solomon R. Guggenheim Museum, MoMA, the Tate Modern, and the Centre Pompidou. Grubbs was a member of the groups Gastr del Sol, Bastro, and Squirrel Bait, and has performed with Tony Conrad, Pauline Oliveros, the Red Krayola, Will Oldham, Loren Connors, and many others. He is a grant recipient from the Foundation for Contemporary Arts, a contributing editor in music for BOMB Magazine, a member of the Blank Forms board of directors, and director of the Blue Chopsticks record label.
Co-sponsored by the Music Department.
This talk is part of a series of events related to the exhibition Diane Simpson: Cardboard-Plus, 1978–1980, on view in the Ezra and Cecile Zilkha Gallery from January 28 through March 1, 2020.
Susan Howe and David Grubbs will perform WOODSLIPPERCOUNTERCLATTER on Tuesday, February 11, 2020 at 4:30pm in Zilkha Gallery.
Photo by John Foster.