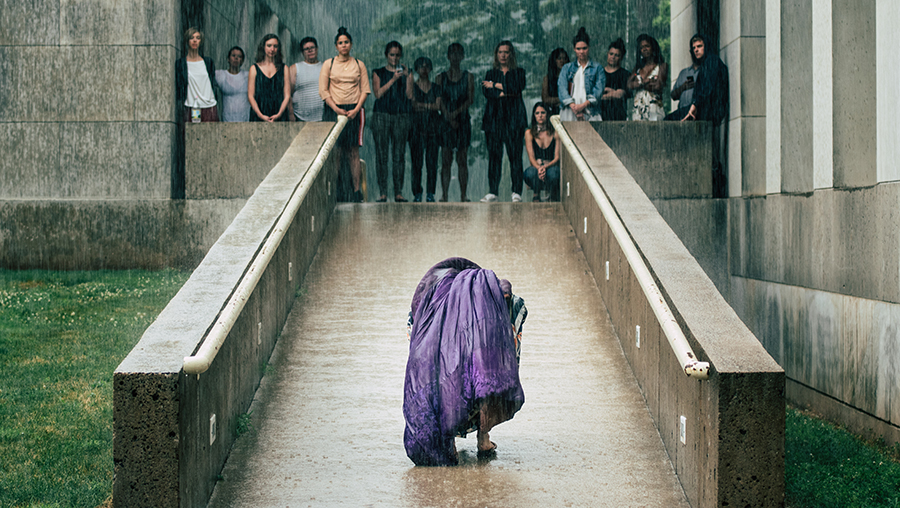 Institute for Curatorial Practice in Performance Symposium
Saturday, February 29, 2020 at 1:00pm
Ring Family Performing Arts Hall

FREE!
Contemporary performance is at a distinct crossroads. The co-existence and cross-pollination of idea- and technique-based performance practices have given rise to a dynamic conversation over the past several decades. Please join the Institute for Curatorial Practice in Performance for a symposium featuring the work of current ICPP students on their innovative practices as they merge theory and practice to reimagine performance and curatorial practice in a broader social and political sphere.
 
PANEL ONE: 1pm–2pm

Layering strategies: Performance Directing as Curatorial Act
Sarah Conn
Sarah Conn creates, directs and produces performances and installations for national and international presentation. She is the Artistic Associate of Canada's National Arts Centre's National Creation Fund, an initiative that funds risk, investing $3 million a year in the development of 15 to 20 compelling and ambitious new Canadian performance works. Sarah is the recipient of the 2016 Siminovitch Protégé Prize for Directing and the 2018 Ontario Arts Council's Pauline McGibbon Award for Directing.

Curation + Civic Transformation
Jamie Gahlon
Jamie Gahlon (she/her/hers) is a cultural organizer, theatremaker, and curator who believes art and culture are essential to a more equitable, just, and sustainable world. She is a Co-Founder and Director of HowlRound Theatre Commons, a platform that amplifies progressive and disruptive ideas about theatre and facilitates connection between theatremakers worldwide, based at Emerson College in Boston, MA.

(Re)devising
Alma Quintana
Alma Quintana works in the field of performance with an interest in (re)imagining relationships that enable/value non-dominant epistemes and cosmologies. In her artistic and curatorial practice, she engages modes of perception and transmission within the realm of the experiential. Her focus on choreographic and dance practices foreground experiments with memory, process and states of attention states that allow alternative corporalities to appear. The strong will to engage with different contexts and communities is what sustains her hybrid practice.


PANEL TWO: 2:15pm–3:15pm

Dance in the Desert: A Gathering of Latinx Dancemakers
Erin Donohue
Erin Donohue is an interdisciplinary artist and project manager based in Phoenix, AZ. Erin has spent the past four years working with Liz Lerman, and now manages Liz's Arizona State University initiatives, including work with the other Institute Professors at the Herberger Institute for Design and the Arts. Previously, Erin was the education director at Hancher Auditorium at the University of Iowa. She believes wholeheartedly that every body can and should dance.

On Display: Performing Bodies in Visual Arts Institutions
Constanza Armes Cruz
Constanza Armes Cruz is an independent curator and producer originally from New York City. Her interests lie at the crossing of visual art and performance, having cut her teeth working with artists making and presenting work in predominantly visual arts contexts. Constanza is interested in interdisciplinary performance that pushes against the boundaries of social structures, creating new modes of interaction between and amongst performers, audience, and institutions.

The Roles of Materiality in Pina Bausch's Tanztheater
Emma Clarke
Emma Clarke was born and raised in New York City. She is currently building her practice as a performing arts curator and writer, and is a master's student at Wesleyan University's Institute for Curatorial Practice in Performance. Emma began her professional career in arts fundraising, holding positions at the New York Philharmonic, Signature Theatre (NY), and most recently Theatre Communications Group. She obtained her B.A. in Dance from Bard College in 2013, receiving the Ana Itelman Prize for Performance upon graduation.


PANEL THREE: 3:30pm–4:30pm

H(a)unt: An experiment in viewer participation
John (Yell) Freeman
John (Yell) Freeman is a performance artist and art curator currently based out of Southwestern Connecticut and New York City. Through both his art and curatorial practice, Freeman seeks to create new means of viewer engagement with, and accessibility to, explorations of challenging personal narratives and socio-political creative concepts.

Curating Process: Paying Attention To The Artist and Tracking The Creative Trajectory
J. Alex Mathews
J. Alex Mathews is an arts practitioner with a background in performance, curation, production, and art-making. After nearly 11 years living and working in Los Angeles, she is now based in Brooklyn. She will earn an MFA in Performance and Performance Studies from Pratt Institute this May, along with an MA from the Institute for Curatorial Practice in Performance at Wesleyan University in 2021. She is currently working with the Chocolate Factory Theater as a writing fellow.

the performance of a single house
Molly Feingold
Molly Feingold currently serves as the Director of Performance Programs for Mana Contemporary. Previously she was Programming Director for The Arts Club of Chicago and co-founder and director of Chicago-based not-for-profit, High Concept Labs. She is a former theatre artist, having graduated from Ecole Jacques Lecoq and North Carolina School of the Arts.


PANEL FOUR: 4:45pm–6:15pm

Encounters in Caribbean Dance: Curating Beyond Display
Candace Thompson-Zachery
Candace Thompson-Zachery, a Brooklyn resident originally from Trinidad and Tobago, is a dancer and cultural producer, with a vested interest in Caribbean dance and culture. She is the founder of Dance Caribbean COLLECTIVE, an initiative that supports and presents Caribbean dance performance in NYC and produces her own choreographic work through the project ContempoCaribe. She is currently a 2nd year student in the Performance Curation program at ICPP and has been recently appointed Manager of Justice, Equity and Inclusion Initiatives at Dance/NYC.

Mobilizing Dance Legacy: Curating Embodiment in the Archive
Raechel Hofsteadter
Raechel Hofsteadter is a second-year student in the ICPP program. She is a freelance dancer and arts administrator, currently working as the Associate Director of Development Operations at the Auditorium Theatre in Chicago

Inside and Beyond Translation: Oblique Gestures of Repair
Beatrice Basso
Beatrice Basso is a theater maker originally from Italy, now based in Southern California, who moves between performing, dramaturging, directing, and curating. Her current projects include the original work Pezzetti, the dramaturgy of a dance by Veronica Santiago Moniello, and the direction of Sylvan Oswald's A Kind of Weather at Diversionary Theatre. Bea curated the ICPP-born Práctica, a platform for multidisciplinary artists practicing south and north of the Tijuana/San Diego border, and serves as adjunct teacher at UCSD.