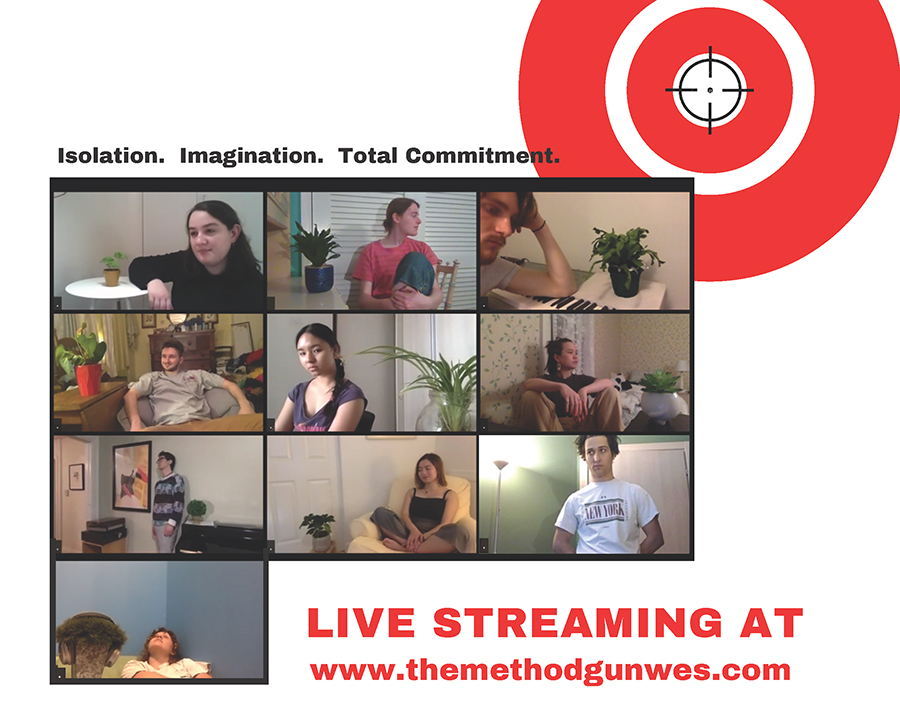 The Method Gun
Saturday, May 2, 2020 at 2:00pm
Online

FREE!
Friday, May 1, 2020 at 8:00pm
Online

FREE!
Saturday, May 2, 2020 at 8:00pm
CFA Theater [CANCELED]

Sunday, May 3, 2020 at 2:00pm
CFA Theater [CANCELED]

This production of The Method Gun will be performed simultaneously by student actors from around the globe in a livestreamed event here for free on Friday, May 1, 2020 at 8pm and Saturday, May 2, 2020 at 2pm by special arrangment from Rude Mechs, Austin, Texas. Performers include Liz Woolford '21, Leon Ristov '21, Max Halperin '20, Esme Ng '22, Robyn Min Xuan Wong '23, Miguel Perez-Glassner '21, Elijah Comas '22, Chapin Montague '21, Luisa Rodriguez '22, and Penelope Lutvak '22. Join the Facebook event here and follow the Instagram account here. 



"Intensely funny, abruptly touching."
—TimeOut New York
Originally created by Rude Mechs of Austin, Texas and re-devised by a Wesleyan ensemble in a generative process led by Assistant Professor of Theater Katie Pearl, The Method Gun explores the actor-training techniques of theater guru Stella Burden and her wildly-committed students. Burden was the creator of "The Approach" (referred to as "the most dangerous acting technique in the world.") The Wesleyan ensemble trained in this approach, and uses archived audio and found text from the journals and performance reports of Burden's company to re-enact the final months of rehearsals for a nine-years-in-the-making production of A Streetcar Named Desire. In translating the show to Zoom, we ask: 'What does it mean to be a theater artist when you can no longer gather together in process or performance?" Continuing to rehearse and make this show is our version of trying to find an answer. By inviting you into our experiment as audience, we will attempt to complete the loop that was formerly called "theater."
Please join a post-show Q&A with the cast and director for each performance.