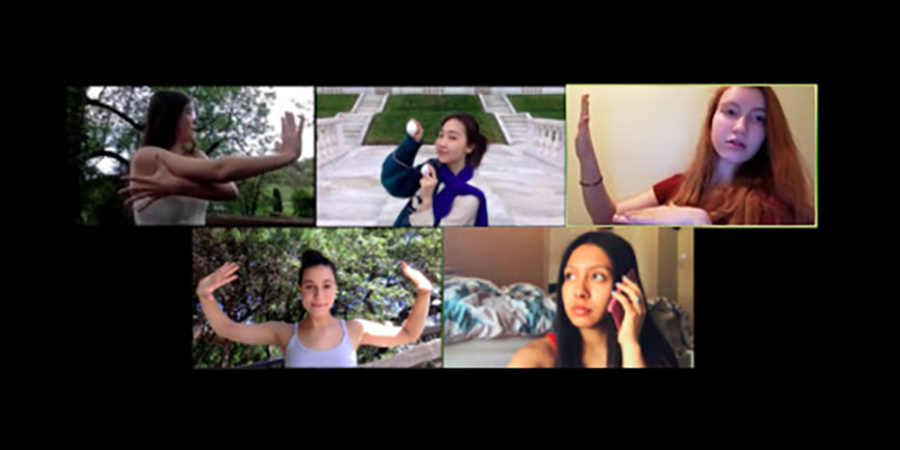 Spring Dance Virtual Concert: threads
Friday, May 22, 2020 at 12:00pm
Center for the Arts website
Saturday, May 23, 2020 at 12:00pm
Center for the Arts website
Enjoy new works created remotely by students in Dance Composition (DANC 250-01), taught by Visiting Assistant Professor of Dance Joya Powell. Featuring works by Pamela Gomez '22, Annie Kidwell '22, Ava Nederlander '22, Beatrix Roberts '22, and Ziye Zhu '23. Videos, photos, and program notes are below and will be available to view on Friday, May 22 and Saturday, May 23, 2020 and will remain available to view through Saturday, May 30, 2020.
The Spring Dance Concert was scheduled to take place on May 5 and 6, 2020 in the Patricelli '92 Theater but was canceled due to the COVID-19 pandemic.
Program
"Movement is our thread to co-exist"
—Ziye Zhu, May, 4, 2020



/Tres/passing Through
Dancemaker and Performer: Annie Kidwell
Sites: Floydsburg Cemetery, Highway 146, Lake Louisvilla, Foxhollow Farm, Beechdale Road, LaGrange-Oldham County, Kentucky.
Soundscape: ambient sounds from each location
Videographer: Melanie Kidwell
Video and Sound Editor: Annie Kidwell
Costumer: Annie Kidwell

This work came about from a fascination with both nature and structure, and how bodies can transform into and out of architecture. I spent a month chasing down buildings, natural settings, and organic spaces that I believed evoked certain sculptural or architectural possibilities for my body to explore. Ultimately, although the product that you see is a video compilation of the work—for me, the real performance was the process of finding these spaces, inhabiting them for a while and allowing the improvisation that these places inspired build my choreography! —Annie Kidwell 



0. Born
Note: this is a recording of an intentionally designed live performance.
Movements creator & live performer: Ziye Zhu
Video by: Cece Payne
Text by: Ziye Zhu
Costume designer: Ziye Zhu
Site: Dresser Diamond
Soundscape: ambient sounds

"A baby is a monster / born out of zero / roar
There a monster has been born / from nothing to nothing
Red Fog / dot / dot / not / not
Nothing / everything / no timeline / not a line
A dot / a dot / a dot / a dot / where we born / we born / born / born
How can one beyond oneself / how can zero beyond zero
A monster dormant comes to life"

The phrase "a monster has been born" came to me several months ago. It started to grow in my body, stubbornly, relentlessly. Designed to be a live performance at Dresser Diamond, a platform in front of Olin Library, my work O.Born explores the nature of birth and transformation. My body's interaction with the space exists as an open realm through which dormant power is unleashed while past stamina has been castigated. Involving the break of two raw eggs, my work is primal, yet ritualistic. —Ziye Zhu



NUDE
Dancemaker: Pamela Gomez
Co-Makers: Dania Rubio, Briana Garcia, Harlem Lewis-Wayans, Nasham Tejeda, Pamela Gomez, Silvia Mejia
Videographers: Harlem Lewis-Wayans, Nasham Tejeda, Pamela Gomez, Silvia Mejia
Video and Sound Editor: Pamela Gomez
Costume: Performers
Soundscape: outside recordings

This work came from the simple curiosity in movements we do every day. My goal was to explore the beauty of our limbs and the way in which their movement inspires what we consider dance. Additionally, amid the COVID-19 pandemic, I wanted to remind us all of the simple and gratifying actions we do and ways we connect amid this new way of living. —Pamela Gomez

View images from project.

rage? against the Machine
Choreographer/Dancer: Ava Nederlander
Videographer/Video Editor: Ava Nederlander
Lighting Designer: Ava Nederlander
Soundscape: white noise
The video and images shared on this website are excerpts of a larger work.
Being confined during the COVID-19 pandemic to my New York City apartment, I wanted to describe how I was feeling and my moods over these past seven weeks. The piece conveys being closed-in and missing the outdoors. —Ava Nederlander

taking care
Dancemaker: Beatrix Roberts
Co-Makers and Videographers: Eliza Dickson, Eliza Fisher, Sierra Glasheen, Mary Johnson, Annabel Kelly, Jeanine Klotzkin, Amaal Ladha, Jenny Margolis, Laura Matheny, Cailin Mirabella, Halle Newman, Emma Powell, Alma Pres, Charlotte Rich, Anna Marie Rosenlieb, Sabine Talbot-Ronk, Julia Walsh, Maren Westgard
Video Editor: Beatrix Roberts
Music: Ernest Braun

This work is an exploration of why we dance, how dancing makes us feel, and how dance can function as a form of self-care. I worked with dancers of all ages and dance backgrounds across the country to create this piece which showcases some of the myriad ways we love to move. My hope was to explore dance as a tool to ground us, inspire us, energize us, and connect us (even when we cannot physically be together). Above all, I hope this piece inspires you to move! —Beatrix Roberts


The choreographers would like to thank:
Professors Katja Kolcio and Iddi Saaka for their presence and feedback at the showings! Chelsie McPhillimy and Jaymee Ngernwichit for providing us with valuable resources throughout this process! Michele Olerud and Shirley Sullivan for their support and coordination of all of the logistics! The Wesleyan Center for the Arts and the Dance Department for giving us a platform to share our work with the community, especially John Elmore and Andrew Chatfield who have been instrumental in our online experience! All of the dancers who were involved in our choreographic journeys! Most of all, Professor Joya Powell for giving us the tools and space to develop as choreographers and people!

Course Description
DANC 250-01: Dance Composition: This course in creating and performing choreography, emphasizes the diversity of techniques, methods, and aesthetic approaches available to the choreographer. Assignments revolve around inventing, organizing, and evaluating movement styles and on solving composition tasks that are drawn from various art mediums. The semester of Dance 250 focuses on the creation of group work and the presentation of a formal black box theatrical setting, while the semester of Dance 249 focuses on developing solo work and a presentation in an informal setting.

A note from Professor Joya Powell
Congratulations to Annie, Ava, Beatrix, Pamela and Ziye for navigating these tumultuous times with breath and the dedication to find ways to create amidst uncertainty. Their work speaks to this moment our global society is experiencing, and demonstrates artistic risk taking, as well as cultivation of personal aesthetic that speaks to their authentic integrity. These may not be the projects they were envisioning at the beginning of the semester, yet these videos are truly testaments to the work these students have put in over the course of the semester. Thank you all for trusting me to assist you on this journey!




DANCE DEPARTMENT FACULTY & STAFF
Pedro Alejandro, Associate Professor of Dance
Patricia Beaman, Artist in Residence
Katja Kolcio, Chair/Associate Professor of Dance
Hari Krishnan, Associate Professor of Dance (on sabbatical)
Susan Lourie, Emeritus
Chelsie McPhillimy, Lighting Designer
Michele Olerud, Administrative Assistant
Marcela Otéiza, Associate Professor of Theater
Joya Powell, Visiting Professor in Dance
Iddi Saaka, Artist-in-Residence
Urip Sri Maeny, Emeritus
Nicole Stanton, Provost and Senior Vice President for Academic Affairs, Professor of Dance

CENTER FOR THE ARTS STAFF
Rani Arbo: Campus and Community Engagement Manager
Kyle Beaudette: Assistant Director of Events and Ticketing
Jennifer Calienes: Interim Director
Charles Carroll: Assistant Technical Director/Scenery Specialist
Benjamin Chaffee: Associate Director, Visual Arts
Andrew Chatfield: Director, Arts Communication
Fiona Coffey: Associate Director for Programming and Performing Arts
Jennifer Diglio: Accounting Specialist
John Elmore: Art Director
Joseph Fonseca: Technical Associate
Drew Gray: General Manager
Tony Hernandez: Assistant Technical Director
Robyn Joyce: Manager, Patricelli '92 Theater
Rosemary Lennox: Exhibitions Manager and ICPP Program Manager
Ellen Maurer: Freelance Designer
Hanna Oravec: Assistant Director for Programs
Robert Russo: Assistant Technical Director / Sound and Video Specialist
Suzanne M. Sadler: Technical Director/CFA Theater Manager