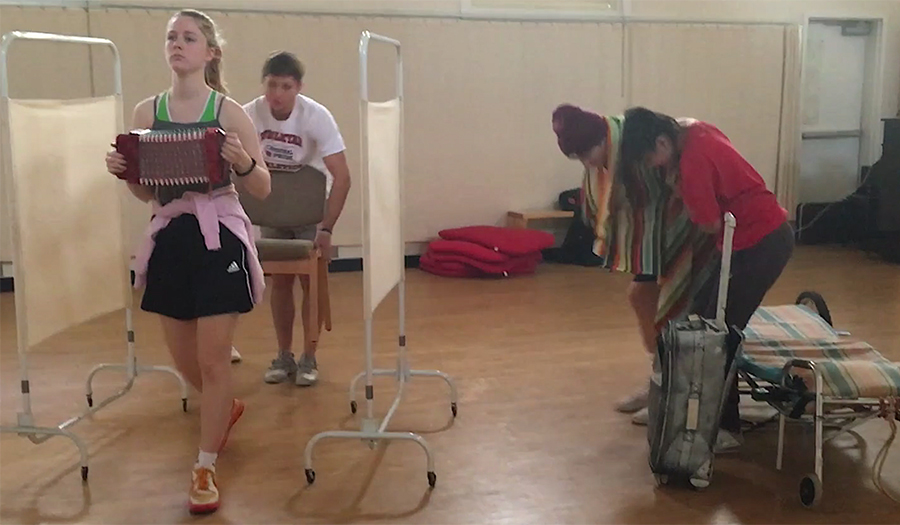 Dance Repertory and Performance Course
Thursday, May 28, 2020 at 12:00pm
Center for the Arts website
Taught in the spring of 2020

Choreographic title of the dance generated in the course: 
"Everywhere I Go, There You Appear"
 
SHORT VIDEO CLIP OF EARLY REHEARSAL
 
IMAGES FROM EARLY REHEARSAL
Associate Professor of Dance Pedro Alejandro
Dance Department
Spring 2020

COURSE DESCRIPTION:
DANCE 378-01: Repertory and Performance is a six-week intensive course, taught by Associate Professor of Dance Pedro Alejandro, that will focus on the interconnection between social activism and dance performance.

Pedro Alejandro will choreograph a dance titled, "Everywhere I Go, There You Appear," that explores the subject of bullying in institutional settings. Peter Digennaro will create new music for Alejandro's, "Everywhere I Go, There You Appear." The videodance, "Desperation and Apparitions" (1997), by Alejandro will be projected on the set of the dance. 

Students of all levels of dance experience are welcomed.


ABOUT THE PROCESS OF LEARNING: "Everywhere I Go, There You Appear."
During the intensive rehearsal process of the course, student performers learned techniques of co-directing; of handling objects in unusual ways; of adapting to unexpected changes in the music; and, learned social dances, and movement drawn from contemporary dance. These techniques/practices/skills and dance traditions allowed the students to quickly adapt to the demands of learning new choreography.

At the end of the course, the students were asked to write a short essay about the challenges and opportunities presented by the various techniques/skills/practices that they learned. Students wrote about the challenges they faced when learning to co-direct; and, to perceive, understand and embody the dance's content and its physicality.

COLLABORATORS AND CAST MEMBERS:
Repertory and Performance (DANC 378-01)
Everywhere I Go, There You Appear

Choreographer: Associate Professor of Dance Pedro Alejandro
Composer: Peter DiGennaro
Costume Designer: Jaymee Ngernwichit
Dancers:
AJ Garcia '22
Georgia Garrison '22
Pamela Gomez '22
Victoria Huston '22
Max Johnson '20
JJ LaCorte '22
Kelly Nano-Miranda '23

Videography: Peter DiGennaro
Photo stills by Peter DiGennaro
Page design by John Elmore