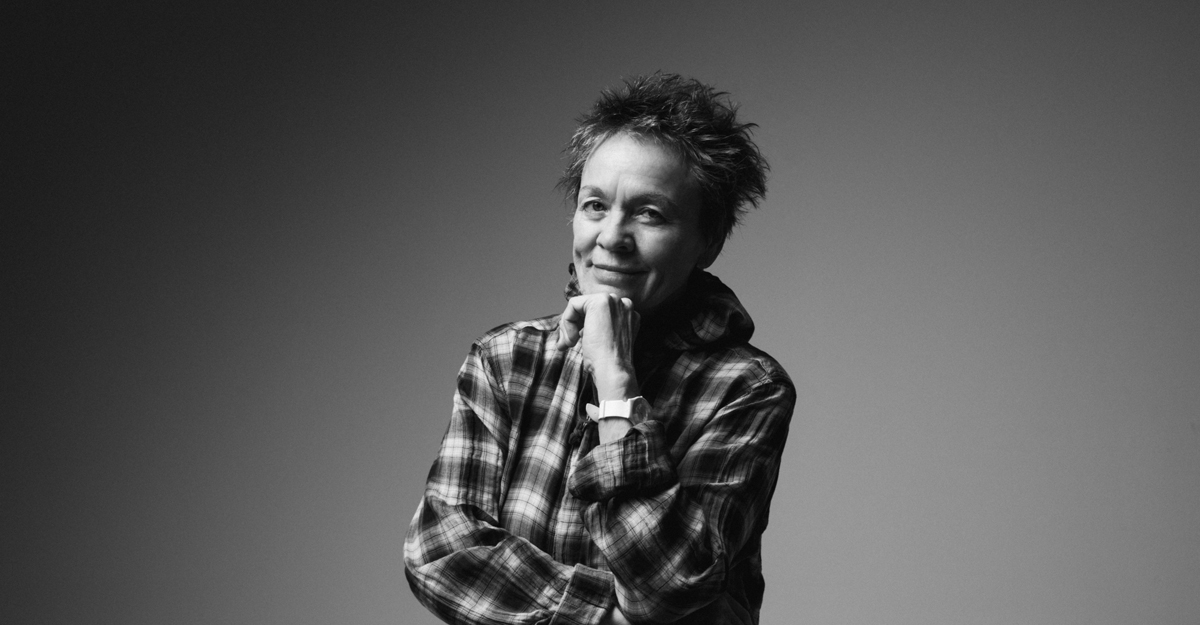 Party in the Bardo: Conversations with Laurie Anderson—Episode Two
Friday, June 19, 2020 at 4:00am
WESU Middletown 88.1FM

Friday, June 19, 2020 at 4:00pm
WESU Middletown 88.1FM

Thursday, February 25, 2021 at 10:00pm
WESU Middletown 88.1FM

The second episode of "Party in the Bardo: Conversations with Laurie Anderson" features a conversation about slowness between writer, director, visual artist, and vocalist
Laurie Anderson
and composer and sound artist
Bruce Odland
on WESU Middletown 88.1FM. Each program will be available to stream from
WESU's show archives
for two weeks following the broadcast.
Click here to stream this two-hour episode from WESU's show archives.
Episode Two includes music and recordings from Anderson and Odland's collaborations, as well as William Basinski, Billie Holiday, Miles Davis, Nina Simone, Janelle Monae, Robert F. Kennedy, Johannes Brahms, Bill Frisell, Annea Lockwood and Bob Bielecki, Lou Reed, Jem Finer, and Arvo Pärt, plus a track from Anderson's album "Dokument #2" with Brian Eno and Ebe Oke released in January.
Bruce Odland thinks with his ears. His work provokes one to reconsider the predominantly visual culture. His first public sound installation commenced in 1977 with
Sun Song
. Clouds of reverberant sound spread over a public festival in Denver, channeled from the Clock Tower. Since then, he has continued working to remind our culture of the importance of sonic resonance and harmonic beauty in public space. He often draws upon the fractal music of nature and has transformed vast industrial soundscapes of cities into harmonic music.
In 1987, Odland founded O+A with Austrian fellow sonic pioneer Sam Auinger. Together they've developed a "Hearing Perspective" of the culture we live in. Their sound installations change one's perception of public space. For example,
Garden of Time Dreaming
, in 1990, was a sonic cosmology. It was installed at the Castle of Linz. There, over 400,000 visitors experienced a sonic journey through time. Later, in the World Financial Center,
Blue Moon
created harmony from city noise.
Requiem for Fossil Fuels
provoked a rethinking of the requiem mass in four virtuoso voices and an eight channel orchestra of tuned cities.
Sonic Vista
united two sections of Frankfurt, Germany in a public art installation at the intersection of the north and south greenbelts.
Harmonic Bridge
, for MASS MoCA, has been transforming road noise into harmony since 1998. Currently, O+A are creating an atmosphere of sonic harmony for the Europaallee. This is a large scale urban development in central Zurich.
Odland collaborates with teams in film, dance, museum installation, and theater. This work includes collaborations with The Wooster Group, Peter Sellars, JoAnne Akalaitis, Wallace Shawn, Andre Gregory, Peter Erskine, Tony Oursler, Dan Graham, Robert Woodruff, Bill Morrison, Stacey Steers, Ron Miles, and many more.
Recently, he co-directed a permanent outdoor sound installation with Laurie Anderson for the Novartis Campus in Basel, Switzerland.
Odland is founder of The TANK Center for Sonic Arts in Rangely, Colorado. He offers lectures and workshops for universities where participants are expected to stretch underused auditory muscles, expand their reach and potential, and think with their ears.
Odland has received artist awards from the New York State Council on the Arts, Foundation for Performing Arts, Bermont Foundation, the DAAD Fellowship, Rensaleer Polytechnic Institute residency, Golden Muse, Helen Hayes, Golden Reel, Focus, and Prix Ars Electronica.
Laurie Anderson has created groundbreaking works that span the worlds of art, theater, and experimental music. A renowned and daring creative pioneer, she has contributed music to dance pieces by Bill T. Jones and Trisha Brown. Her 2018 recording with the Kronos Quartet, "Landfall," won a GRAMMY Award. Her most recent collaboration is 2019's "Songs from the Bardo" with Tenzin Choegyal and Jesse Paris Smith.
"Since the early '80s, I've dreamed of...having a radio show in the middle of the night" said Laurie Anderson. "When time slows down, where the lines between sleeping and waking, between dreams and reality, are getting blurred, and when people's defenses drop away, and logic just seems to be very limiting."
"Party in the Bardo: Conversations with Laurie Anderson"
brings listeners into intimate conversations between Anderson and her close friends and colleagues—artists, writers, and thinkers who share Anderson's zeal to ask questions, explore, and understand the world. "Party in the Bardo" was created for this moment in time, when our global and local communities are grappling with the new reality of COVID-19. In Tibetan tradition, the "Bardo" is the in-between: a state of existence after death and before one's next birth, when consciousness is not connected to a physical body. By design, each episode will premiere on Friday at 4am, when thoughts drift and new connections become possible —and a time, in 2020, when many of us are awake and wondering at the moment we are living though. (For those who sleep well, "Party in the Bardo" will also air again the same day at 4pm.)
"Party in the Bardo" was created and hosted by Laurie Anderson as part of her 2019-2020 artist residence at Wesleyan University, and is funded by The Andrew W. Mellon Foundation and the Philip J. '71 and Lynn Rauch Fund for Innovation, with support from Wesleyan University's Center for the Arts and WESU Middletown 88.1 FM.
Thumbnail image of Bruce Odland by Gerry Amstutz. Image of Laurie Anderson by Ebru Yildiz.