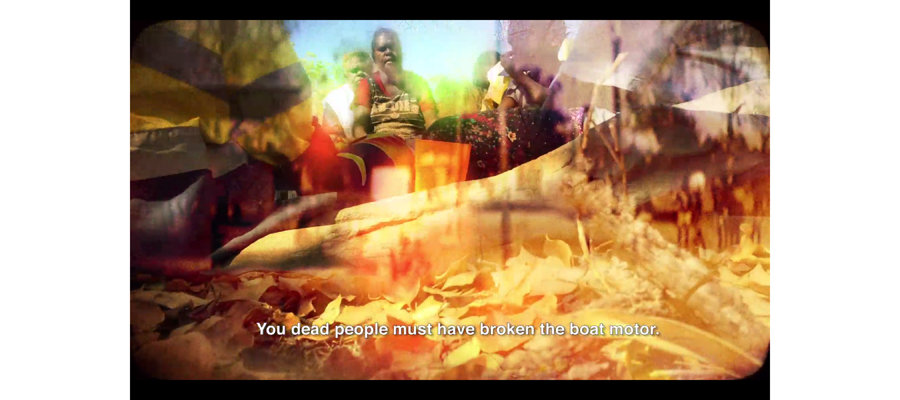 Streaming Video: Karrabing Film Collective - Wutharr, Saltwater Dreams
Sunday, September 20, 2020 at 12:00pm
"A SCULPTURE, A FILM AND SIX VIDEOS" exhibition website

"Wutharr, Saltwater Dreams," a 28 minute video by the
Karrabing Film Collective
, is streaming online through Sunday, November 22, 2020 as part of the exhibition
A SCULPTURE, A FILM & SIX VIDEOS
.
Stream the video "Wutharr, Saltwater Dreams" online on the A SCULPTURE, A FILM & SIX VIDEOS exhibition website.


In the Emmiyengal language, karrabing means "low tide," and refers to a collectivity outside structures of government, clanship, or land ownership. The term also invokes the work of the Karrabing Film Collective, as through film and installation the group addresses and intervenes in legacies of colonial violence which are often shrouded by traditional narratives of history but nonetheless resonate with long standing effects. In "Wutharr, Saltwater Dreams" (2016), three varied accounts from members of a family are offered to explain the cause of a boat breakdown, engaging with intersecting forces including angered ancestral spirits, state authorities and the bureaucracy of settlement, and Christian faith. Shot on an iPhone, the film offers a tangled and nuanced vision of a forever entwined past and present. The work of the Karrabing Film Collective dramatizes and satirizes the political, social, and economic conditions faced by members of the collective. Characteristically fluid in form, the films produced by the group often follow nonlinear structures and allude to the amorphous and transient quality of history and memory. As founding member Elizabeth A. Povinelli reflects in a feature about the Karrabing Film Collective in
Art Review
, the narratives of the collective's films engage with a complex understanding of the past and present, fact and fiction, as "it's a story, but it's real…not exactly what happens but what happens."
Video streaming courtesy of the artists. Additional support and co-sponsorship for Karrabing Film Collective is provided by Wesleyan University's Anthropology Department, History Department, and Center for the Humanities in conjunction with their fall 2020 theme of "Dirt."
Read more about "Wutharr, Saltwater Dreams" on the A SCULPTURE, A FILM & SIX VIDEOS exhibition website.
Related Events
Artist Talk: Karrabing Film Collective
Zoom Webinar
FREE!
RSVP required for access to virtual event.
The Karrabing Film Collective's video "The Mermaids or Aiden in Wonderland" was screened in the Ezra and Cecile Zilkha Gallery from Sunday, September 20 through Friday, October 2, 2020.