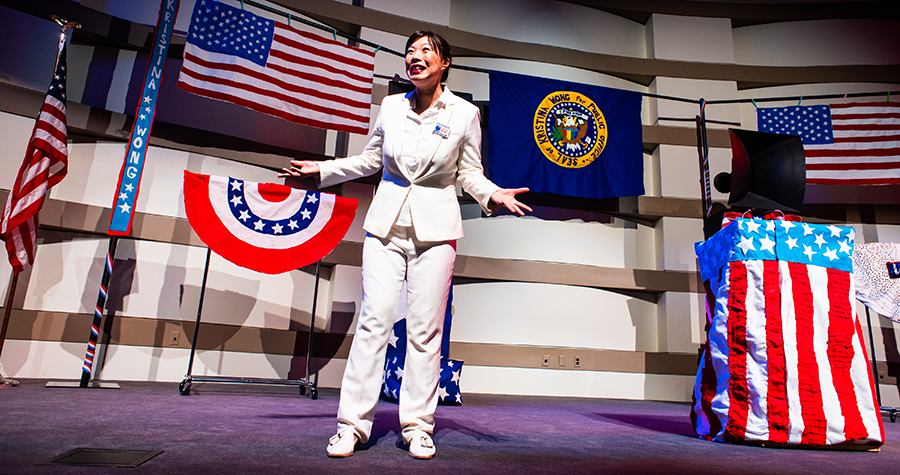 Kristina Wong for Public Office
Thursday, September 10, 2020 at 7:00pm

FREE! RSVP required for access to virtual event.
Written and performed by Kristina Wong
Directed and dramaturgy by Diana Wyenn
Devised by Kristina Wong and Diana Wyenn
Sound by Mark McClain Wilson
Scenic, costumes, and props by Kristina Wong
"These days electoral politics [change from...minute to minute]. But one thing doesn't change…Koreatown's Wilshire Center Neighborhood Council Kristina Wong's gift for fusing performance art with political commentary and edgy humor."
—
LA Weekly
Performance artist, comedian, and writer
Kristina Wong
's raucous work "Kristina Wong for Public Office" (2018) crosses the aesthetics of campaign rallies, church revivals, and solo theater shows to tell the story of what it means to run for local office, the history of voting, and the impact artists can have in an attempt to counter-hijack our democracy. The piece will comment on the real anxiety of the United States in a live broadcast from the artist's home. Is there actually a difference between performance art and politics?
Followed by a candidate "Meet and Greet" with the artist.
Co-presented by Wesleyan University's Center for the Arts and the University of Massachusetts Amherst Fine Arts Center.
"Kristina Wong for Public Office" has been supported by a 2019 Center Theater Group Sherwood Award and a 2018 City of Los Angeles Career Artist Fellowship.
This production contains mature or sensitive content and may not be advisable for all audiences.
Click here for more information about Kristina Wong's residency at Wesleyan.