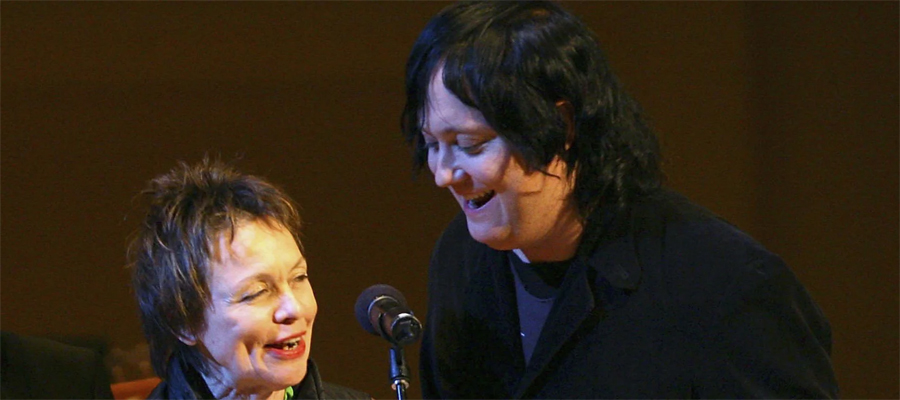 Party in the Bardo: Conversations with Laurie Anderson—Episode Seven
Friday, September 11, 2020 at 4:00am
WESU Middletown 88.1FM

FREE!
Friday, September 11, 2020 at 4:00pm
WESU Middletown 88.1FM

FREE!
Thursday, April 8, 2021 at 10:00pm
WESU Middletown 88.1FM

The seventh episode of "Party in the Bardo: Conversations with Laurie Anderson" features a conversation between writer, director, visual artist, and vocalist
Laurie Anderson
and iconic singer and visual artist 
ANOHNI
about musical inspirations, shamans, shape shifting, demons, and New York City on WESU Middletown 88.1FM. Each program will be available to stream from
WESU's show archives
for two weeks following the broadcast.
Click here to stream this two-hour episode from WESU's show archives.
Episode seven features works of rage, howling, despondence, and hope by Yoko Ono, Diamanda Galás, Aretha Franklin, Peaches and Herb, Astor Piazzolla, Klaus Nomi, Jimmy Scott, Cocteau Twins, Marvin Gaye, Steve Reich, Otis Redding, Marc and The Mambas, Nomi, Jackie Shane, Sinéad O'Connor, and Meredith Monk; two tunes by both Nina Simone and Lou Reed; Antony performing "Candy Says" with Lou Reed; and both Antony and The Johnsons and Joan Baez's versions of "Another World."
Click here to read about this episode in Pitchfork: "ANOHNI Joins Laurie Anderson on Party in the Bardo Radio Show: Listen"

ANOHNI is an English/American artist from New York City. She is inspired by Marsha P. Johnson, Kazuo Ohno, and Peter Hujar. She began performing her songs at late night cabarets at the Pyramid in New York City in the 1990s. As part of the Whitney Bienale, ANOHNI presented a concert/live video event called "TURNING" in collaboration with Charles Atlas and thirteen women from New York City in 2004. Her second album "I Am a Bird Now" was awarded the U.K.'s Mercury Prize in 2005. She staged "Swanlights" in 2012 at Radio City Music Hall, presented by the Museum of Modern Art, and with symphonies in opera houses around the world. The U.K. singer Birdy performed ANOHNI's song "Bird Gerhl" at the opening ceremony of the 2012 Paralympics. In 2014 ANOHNI co-authored the artwork and performance series "FUTURE FEMINISM" at The Hole in New York City, launching the viral slogan "The Future is Female" into the 21st century. She co-authored and performed the Oscar-nominated song "Manta Ray" from the film "Racing Extinction" in 2016. That same year ANOHNI performed her electronic protest album "HOPELESSNESS" in tandem with portraits of fifteen female artists at the Park Avenue Armory. In 2019 she presented an exhibition and play at the Kitchen in New York City entitled "She Who Saw Beautiful Things." ANOHNI's 2008 song "Another World" was recently recorded by Joan Baez.
Laurie Anderson has created groundbreaking works that span the worlds of art, theater, and experimental music. A renowned and daring creative pioneer, she has contributed music to dance pieces by Bill T. Jones and Trisha Brown. Her 2018 recording with the Kronos Quartet, "Landfall," won a GRAMMY Award. Her most recent collaboration is 2019's "Songs from the Bardo" with Tenzin Choegyal and Jesse Paris Smith.
"Since the early '80s, I've dreamed of...having a radio show in the middle of the night" said Laurie Anderson. "When time slows down, where the lines between sleeping and waking, between dreams and reality, are getting blurred, and when people's defenses drop away, and logic just seems to be very limiting."
"Party in the Bardo: Conversations with Laurie Anderson"
brings listeners into intimate conversations between Anderson and her close friends and colleagues—artists, writers, and thinkers who share Anderson's zeal to ask questions, explore, and understand the world. "Party in the Bardo" was created for this moment in time, when our global and local communities are grappling with the new reality of COVID-19. In Tibetan tradition, the "Bardo" is the in-between: a state of existence after death and before one's next birth, when consciousness is not connected to a physical body. By design, each episode will premiere on Friday at 4am, when thoughts drift and new connections become possible —and a time, in 2020, when many of us are awake and wondering at the moment we are living though. (For those who sleep well, "Party in the Bardo" will also air again the same day at 4pm.)
"Party in the Bardo" was created and hosted by Laurie Anderson as part of her 2019-2020 artist residence at Wesleyan University, and is funded by The Andrew W. Mellon Foundation and the Philip J. '71 and Lynn Rauch Fund for Innovation, with support from Wesleyan University's Center for the Arts and WESU Middletown 88.1 FM.
Image of Laurie Anderson by Ebru Yildiz. Image of