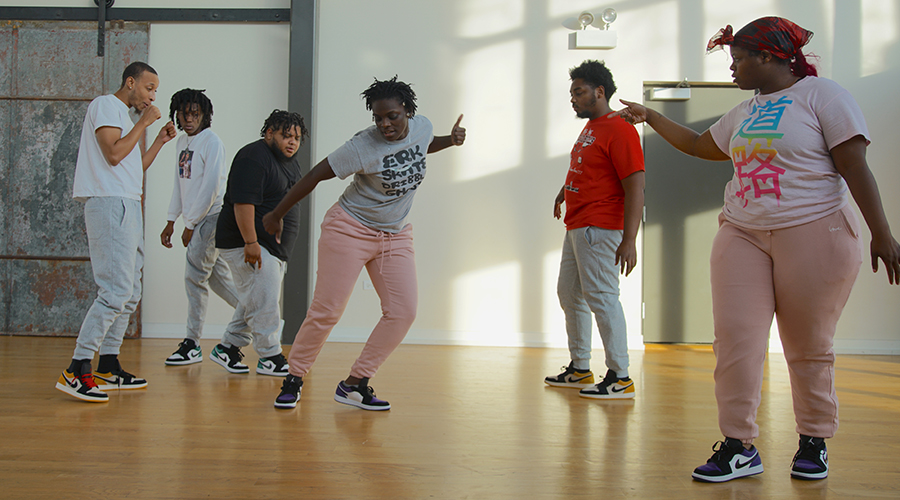 The Era Footwork Crew: Dance Workshop/Lab Session and Conversation with 860MVMNT
Thursday, September 24, 2020 at 7:00pm

FREE! RSVP required for access to virtual event.
"The Era has taken footwork back for Chicago."
--
Chicago Tribune
Pioneers of the battle dance known as Chicago footwork since 2014,
The Era Footwork Crew
will teach the basics of the style to dancers of all backgrounds and experience levels. This virtual lab session includes introductions to the cultural history and meaning of the style with a focus on improvisation and teaching students to use the basics to find their own style within the form. The workshop will be taught by
Sterling "Steelo" Lofton
,
Jemal "P-Top" De La Cruz
, and
Diamond "Queen Diamond" Hardiman
.
The dance workshop will be followed by a conversation with Hartford-based street dance collective
860MVMNT
directed by
Jolet "Flo Jo" Creary
, an alumna of The School at Jacob's Pillow, exploring differences in regional styles of dance and how a community's culture gives rise to dance forms. Other panel participants from 860MVMNT will include
Peter "P-Boogie" Reynolds
and
Tyler "Partypat" Brown
.
The panel will be moderated by
Deborah Goffe
MA '19, Director of Scapegoat Garden and Assistant Professor of Dance at Hampshire College
860MVMNT is the fall Dance Artist in Residence at the University of Saint Joseph, where they are developing a work in response to COVID-19/Black Lives Matter which will premiere in December 2020 at the Autorino Center for the Arts in West Hartford.
Click here for more information about The Era Footwork Crew's residency at Wesleyan.