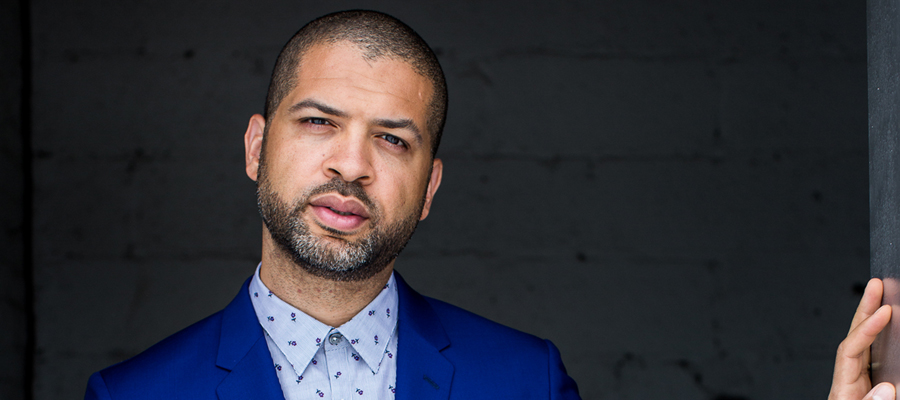 Party in the Bardo: Conversations with Laurie Anderson—Episode Eight
Thursday, April 15, 2021 at 10:00pm
WESU Middletown 88.1FM

Friday, September 25, 2020 at 4:00am
WESU Middletown 88.1FM

Friday, September 25, 2020 at 4:00pm
WESU Middletown 88.1FM

The eighth episode of "Party in the Bardo: Conversations with Laurie Anderson" features a conversation between writer, director, visual artist, and vocalist
Laurie Anderson
and pianist, composer, and artist
Jason Moran
on WESU Middletown 88.1FM. Each program will be available to stream from
WESU's show archives
for two weeks following the broadcast.
Click here to stream this two-hour episode from WESU's show archives.
Episode eight features recordings by people who speak through music with unusual clarity, including live performances of "Alone Together" and "Get Happy" by the late Lee Konitz with Jason Moran and Nasheet Waits in Italy, Moran's solo version of "More News / Big News" from
The Armory Concert
, Moran's trio
The Bandwagon
at the Village Vanguard, and his collaborations with Joan Jonas (from "The Shape, The Scent, The Feel of Things") and Alicia Hall Moran (from "Two Wings: The Music of Black America in Migration" with The Harlem Chamber Players); music by Faka featuring Surreal Notions, Pauline Oliveros, Angela Davis, Thomas "Fats" Waller, Skip James, Wayne Shorter, Albert Ayler, Colin Stetson, Elliott Sharp, Prince, Geri Allen, and Rugilė Barzdžiukaitė, Vaiva Grainytė, and Lina Lapelytė; two tracks by Kelela; and both Thelonious Monk and Ella Fitzgerald's versions of "'Round Midnight."
Jason Moran was born in Houston, Texas in 1975 and earned a degree from the Manhattan School of Music, where he studied with Jaki Byard. He was named a MacArthur Fellow in 2010 and is the Artistic Director for Jazz at The Kennedy Center. Moran currently teaches at the New England Conservatory. His activity stretches beyond the fifteen critically-acclaimed solo recordings and performances with masters of the form including Charles Lloyd, Cassandra Wilson, and the late Sam Rivers. His 21 year relationship with his trio The Bandwagon (with drummer Nasheet Waits and bassist Tarus Mateen) has resulted in a profound discography for Blue Note Records and Yes Records, a label he co-owns with his wife, singer and composer Alicia Hall Moran. Moran keeps a close relationship with music and activism, culminating in his scoring work with film director Ava DuVernay on "Selma" and "13th." He also scored the stage and upcoming HBO adaptation of Ta-Nehisi Coates' book "Between the World and Me."  Within jazz, his multimedia tributes to Thelonious Monk, Fats Waller, and James Reese Europe have shifted the jazz paradigm, combining striking visuals, music, and history into evening-length works.  
Laurie Anderson has created groundbreaking works that span the worlds of art, theater, and experimental music. A renowned and daring creative pioneer, she has contributed music to dance pieces by Bill T. Jones and Trisha Brown. Her 2018 recording with the Kronos Quartet, "Landfall," won a GRAMMY Award. Her most recent collaboration is 2019's "Songs from the Bardo" with Tenzin Choegyal and Jesse Paris Smith.
"Since the early '80s, I've dreamed of...having a radio show in the middle of the night" said Laurie Anderson. "When time slows down, where the lines between sleeping and waking, between dreams and reality, are getting blurred, and when people's defenses drop away, and logic just seems to be very limiting."
"Party in the Bardo: Conversations with Laurie Anderson"
brings listeners into intimate conversations between Anderson and her close friends and colleagues—artists, writers, and thinkers who share Anderson's zeal to ask questions, explore, and understand the world. "Party in the Bardo" was created for this moment in time, when our global and local communities are grappling with the new reality of COVID-19. In Tibetan tradition, the "Bardo" is the in-between: a state of existence after death and before one's next birth, when consciousness is not connected to a physical body. By design, each episode will premiere on Friday at 4am, when thoughts drift and new connections become possible —and a time, in 2020, when many of us are awake and wondering at the moment we are living though. (For those who sleep well, "Party in the Bardo" will also air again the same day at 4pm.)
"Party in the Bardo" was created and hosted by Laurie Anderson as part of her 2019-2020 artist residence at Wesleyan University, and is funded by The Andrew W. Mellon Foundation and the Philip J. '71 and Lynn Rauch Fund for Innovation, with support from Wesleyan University's Center for the Arts and WESU Middletown 88.1 FM.
Image of Laurie Anderson by Ebru Yildiz. Image of Jason Moran by Clay Patrick McBride.