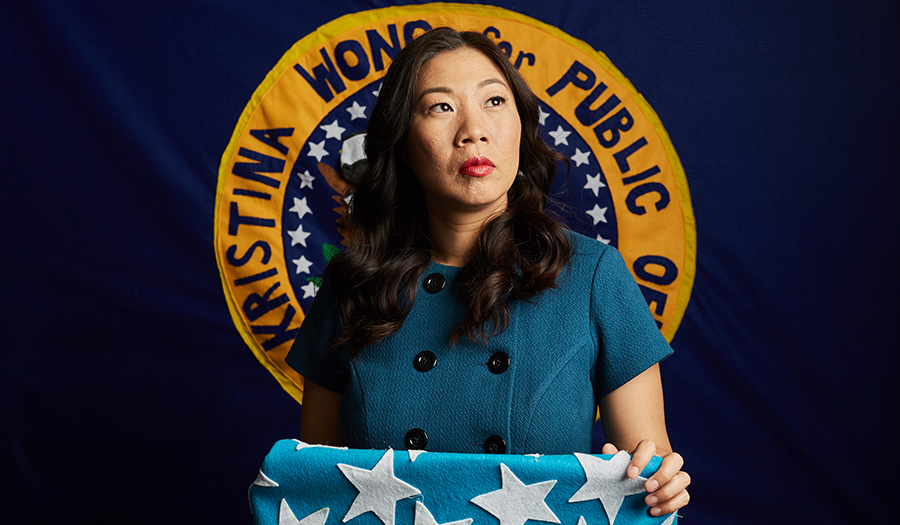 Working as an Artist of Color: An Intimate Conversation with Kristina Wong
Tuesday, October 6, 2020 at 12:00pm

FREE! For Wesleyan students. RSVP required for access to virtual event.
Wesleyan students join performance artist and writer
Kristina Wong
for an intimate, casual discussion about making solo work and addressing social and racial justice issues through the use of comedy and parody. Moderated by Assistant Professor of Theater
Maria-Christina Oliveras
.
BILA+ (Black, Indigenous, Latinx, Asian, and other) / BIPOC (Black, Indigenous, People of Color) students will talk candidly with Wong about her experience living and working in the U.S. as a Chinese American female artist who keeps her identity at the forefront of her performance work, which intersects squarely with politics, and with an eye towards fixing what's broken in our country.
Using scathing wit, raunchy humor, and fierce commentary, Wong's two-decade career has spanned fringe performance art (the fake mail order bride site
www.bigbadchinesemama.com
that launched her career) to major social activism. She focuses on issues and realities specific to the Asian American population, particularly women within that community.
Click here for more information about Kristina Wong's residency at Wesleyan.