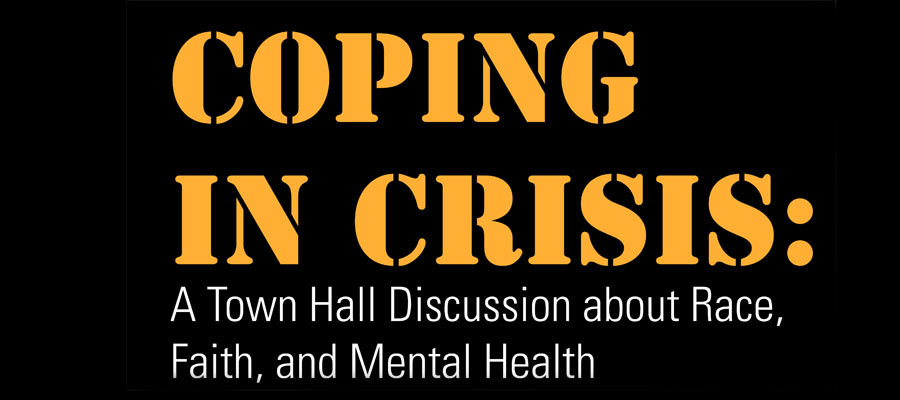 Coping in Crisis: A Town Hall Discussion about Race, Faith, and Mental Health
Monday, October 12, 2020 at 5:30pm
Zoom

FREE! RSVP required for access to virtual event.
Racial injustice and COVID-19 are exacerbating the mental health crisis in communities of color and on college campuses. This town hall webinar brings four prominent and outspoken community leaders together to talk about their life journeys and explore issues of mental health, faith, culture, and brain science with Wesleyan students, staff, and faculty. This discussion will be set amidst the background of systemic racism, the global pandemic, police brutality, social justice marches, an uncertain job market, and the struggling economy.
The panelists include two-time NBA all-star, gold medalist on the 2000 Summer Olympics U.S. Men's Basketball team, non-profit founder, and senior advisor to the general manager of the New York Knicks
Allan Houston
; Wesleyan Counseling and Psychological Services Mental Health Education and Prevention Coordinator
Angie Makomenaw
; Director of Ebony Singers, founder of The Citadel of Love, and author of "Ordered Steps" Pastor
Marichal Monts
'85; and Yale University Associate Professor of Psychiatry and Cellular and Molecular Physiology
Nii Addy
.
The panel discussion will be moderated by Director of the Resource Center and Adjunct Instructor of Education Studies
Demetrius Colvin
.
The audience discussion leader will be Assistant Director of Counseling and Psychological Services Dr.
Smith Kidkarndee
.
Following the town hall, the audience will continue discussions and interact with the panelists and moderator in breakout rooms.
Director of Religious and Spiritual Life and University Jewish Chaplain Rabbi
David Teva
will also lead a meditation session, "From Theory to Practice: Cultivating Wholeness and Well-Being Through Contemplative Mindfulness," with the Resource Center's Race, Ethnicity, and Nationality Intern
Jada Reid
'22; and Mindfulness Intern
Tyla Taylor
'21, who leads Mindful Wes, a student group working to bring conscious awareness to ourselves, our community, and our environment by offering spaces to learn and practice meditation. Reid and Taylor also founded the SOC Healing Space on campus, which focuses on creating a community for students of color to explore journaling and meditation practices.