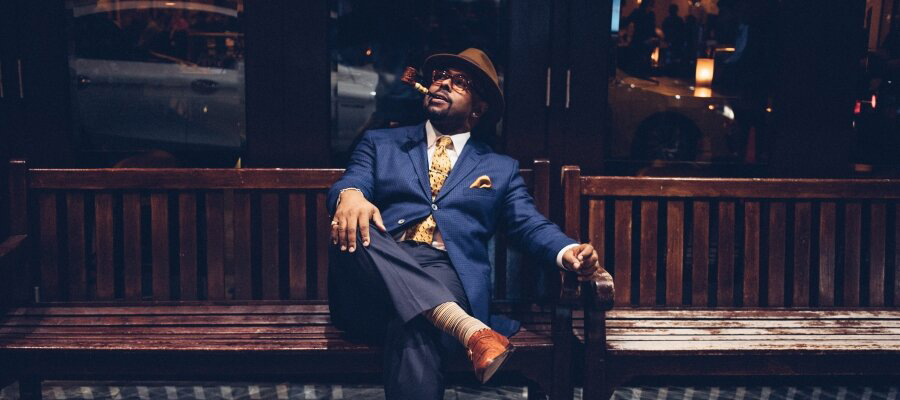 Party in the Bardo: Conversations with Laurie Anderson—Episode Ten
Friday, October 23, 2020 at 4:00am
WESU Middletown 88.1FM

Friday, October 23, 2020 at 4:00pm
WESU Middletown 88.1FM

Thursday, April 29, 2021 at 10:00pm
WESU Middletown 88.1FM

The tenth episode of "Party in the Bardo: Conversations with Laurie Anderson" features a conversation between writer, director, visual artist, and vocalist
Laurie Anderson
and bassist and composer
Christian McBride
about freedom, improvisation, playing live, and grooves on WESU Middletown 88.1FM. Each program will be available to stream from
WESU's show archives
for two weeks following the broadcast.
Episode ten includes music and recordings by Wayne Shorter, Michael Jackson, Quincy Jones, John Adams, Ann Peebles, John Coltrane, Brian Eno, Glenn Gould, Alanis Obomsawin, James Brown, Gladys Knight and The Pips, The Temptations, Antonín Dvorák, Dianne Reeves, Pat Metheny and Lyle Mays, Allen Ginsberg with Philip Glass, and two tunes each from Herbie Hancock and Miles Davis.
Christian McBride is a seven-time GRAMMY® Award-winning bassist/composer and the host of NPR's
Jazz Night in America
. Since the early 1990s, McBride has recorded on over 300 dates as a sideman. However, he's been a leader from his debut recording in 1995. Aside from various stints with Sting, Chick Corea, Pat Metheny, Roy Haynes, Freddie Hubbard, and George Duke, McBride has been an artist in residence and artistic director with organizations such as Jazz House Kids, the Los Angeles Philharmonic, the National Jazz Museum in Harlem, Jazz Aspen, and the New Jersey Performing Arts Center in Newark. McBride manages to tour consistently with his quartet the New Jawn. He also fronts the GRAMMY® Award-winning Christian McBride Big Band, whose Mack Avenue recordings,
The Good Feeling
and
Bringin' It
, won the GRAMMY® Awards for "Best Large Jazz Ensemble Album" in 2012 and 2017 respectively. In addition, McBride hosts "The Lowdown: Conversations With Christian" on Sirius/XM, and DJs at clubs as DJ Brother Mister. McBride was recently named the artistic director of the historic Newport Jazz Festival, taking over the reins from the festival's longtime artistic director and founder George Wein.
Laurie Anderson has created groundbreaking works that span the worlds of art, theater, and experimental music. A renowned and daring creative pioneer, she has contributed music to dance pieces by Bill T. Jones and Trisha Brown. Her 2018 recording with the Kronos Quartet, "Landfall," won a GRAMMY Award. Her most recent collaboration is 2019's "Songs from the Bardo" with Tenzin Choegyal and Jesse Paris Smith.
"Since the early '80s, I've dreamed of...having a radio show in the middle of the night" said Laurie Anderson. "When time slows down, where the lines between sleeping and waking, between dreams and reality, are getting blurred, and when people's defenses drop away, and logic just seems to be very limiting."
"Party in the Bardo: Conversations with Laurie Anderson"
brings listeners into intimate conversations between Anderson and her close friends and colleagues—artists, writers, and thinkers who share Anderson's zeal to ask questions, explore, and understand the world. "Party in the Bardo" was created for this moment in time, when our global and local communities are grappling with the new reality of COVID-19. In Tibetan tradition, the "Bardo" is the in-between: a state of existence after death and before one's next birth, when consciousness is not connected to a physical body. By design, each episode will premiere on Friday at 4am, when thoughts drift and new connections become possible —and a time, in 2020, when many of us are awake and wondering at the moment we are living though. (For those who sleep well, "Party in the Bardo" will also air again the same day at 4pm.)
"Party in the Bardo" was created and hosted by Laurie Anderson as part of her 2019-2020 artist residence at Wesleyan University, and is funded by The Andrew W. Mellon Foundation and the Philip J. '71 and Lynn Rauch Fund for Innovation, with support from Wesleyan University's Center for the Arts and WESU Middletown 88.1 FM.
Image of Laurie Anderson by Ebru Yildiz. Images of Christian McBride by Anna Webber.