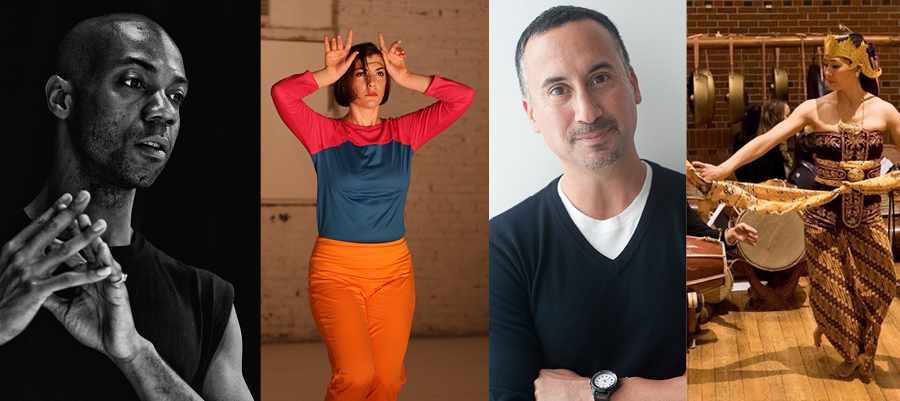 Fall Faculty Dance Concert: The Perseverance Project
Saturday, October 31, 2020 at 8:00pm

FREE! RSVP required for access to virtual event.
The Perseverance Project features works by Visiting Assistant Professors of Dance Milka Djordjevich and Maho Ishiguro MA '12 Ph.D. '18, Visiting Associate Professor of Dance Doug Elkins, and Visiting Instructor in Dance Shamel Pitts. This virtual evening will feature extraordinary conversations, interviews, recordings, performances, and a post-show discussion moderated by Professor and Chair of the Dance Department Hari Krishnan.

This event will be streamed on both YouTube and Facebook.
View the Fall Faculty Dance program here.
Hari Krishnan introduces the four choreographers as they share more about their work on the Center for the Arts blog.
PROFILES

Milka Djordjevich is a choreographer, performer, and teacher. Her work draws from a variety of compositional strategies to question preconceived notions of dance, examining self-identified moving female bodies in so-called "neutral" public spaces of theaters, galleries, and museums. Djordjevich's works include ANTHEM (2017), commissioned by Los Angeles Performance Practice and The Chocolate Factory Theater. In 2013, Djordjevich created and performed Kinetic Makeover, a solo piece that confers power and autonomy on one body, which premiered at The Chocolate Factory Theater and toured nationally and internationally. Her long-standing collaborations with composer Chris Peck challenge conventional partnerships between choreographers and composers, rediscovering music as a practice of the body and dance as a mode of listening. Their work MASS (2015) premiered at The Kitchen, with additional performances at Show Box L.A./Bootleg Theater and the American Realness Festival. Djordjevich's works have also been presented at REDCAT, L.A. Dance Platform, Danspace Project, Dance Theater Workshop, The Whitney Museum, The Philadelphia Thing, Portland Institute of Contemporary Art's Time-Based Art Festival, Berkeley Art Museum, and Santa Ana Sites; and internationally in Austria, France, Germany, Italy, Macedonia, Poland, Serbia, and the U.K. Her forthcoming work CORPS, commissioned by New York Live Arts, ​reveals the cyclical feminine labor through the lense of militaristic, ritualistic, and socialist movement forms. She has served as co-editor for Movement Research's Critical Correspondence and initiated the Monday Class series at Pieter in Los Angeles. Djordjevich is a Foundation for Contemporary Arts Artist Grant recipient (2020) and was a Princeton University Hodder Fellow (2017-2018), a danceWEB Europe Scholar (2008/2010), and a Movement Research Artist-in-Residence (2006-2007). She has also held residencies at Maggie Allesee National Center for Choreography, PACT Zollverein, Fabrik Potsdam, and Workspace Brussels. She has taught at CalArts, the American Musical and Dramatic Academy, Pomona College, Pasadena City College, and University of California at Irvine, Riverside, and Los Angeles, among others. Djordjevich received a B.A. from the University of California, Los Angeles, and an M.F.A. from Sarah Lawrence College. In 2016, she established STANA, an organization cultivating local, national, and international dance connections.
Doug Elkins is a two-time New York Dance and Performance (Bessie) Award-winning choreographer and 2012 John Simon Guggenheim Memorial Foundation Creative Arts Fellow. He began his dance career as a b-boy and house dancer, touring the world with break/house dance groups New York Dance Express, The Royal Rockers, and Magnificent Force, among others. He has also performed with and collaborated with Rennie Harris and the legendary House of Ninja (Voguing). Elkins is a recipient of significant choreographic commissions and awards from the National Endowment for the Arts, The Yard on Martha's Vineyard (Paul Taylor Fellowship 1991 and Resident Artist 2011-2013), Jacob's Pillow Dance Festival, The Joyce Theater Foundation, Arnhold Foundation, Dianne & Daniel Vapnek Family Fund, National Performance Network, Jerome Foundation, Choo-San Goh & H. Robert Magee Foundation, and The Foundation for Contemporary Performance Arts. Elkins is artistic director of doug elkins choreography, etc. which has toured nationally and internationally with works including Fräulein Maria (2006), Mo(or)town/Redux (2012), and O, round desire (2017). Between his current and original companies (Doug Elkins Dance Company 1988–2003), he has created over forty works. He was among the first choreographers commissioned by the late Paul Taylor to make work on Paul Taylor American Modern Dance; The Weight of Smoke premiered at Lincoln Center in March 2016 and remains in their tour repertory. A graduate of S.U.N.Y. Purchase, Elkins received his M.F.A. in Dance from Hollins University/American Dance Festival in 2007. His tenure teaching at The Beacon School on the Upper West Side of Manhattan is the subject of Where the Dance Is, a short film by Marta Renzi.
An ethnomusicologist whose research focuses on dance and music of Indonesia, Maho Ishiguro uses dance as a lens for studying and engaging with Indonesian people, cultural practices, and living traditions. Ishiguro began her study of Javanese court dance at Wesleyan under Retired Artist in Residence Urip Sri Maeny, and has since trained with renowned teachers at the Mangkunegaran court in Surakarta, Indonesia. A longtime student of Winslow-Kaplan Professor of Music Sumarsam, a prominent Indonesian ethnomusicologist; and University Professor of Music I.M. Harjito, master of Central Javanese Gamelan; Ishiguro regularly performs with gamelan ensembles throughout the northeastern United States. Her doctoral research, conducted under the auspices of the Fulbright-Hays Doctoral Dissertation Research Abroad Fellowship, took her to Indonesia's westernmost Aceh province, which boasts its own performing arts practices that are distinct from the rest of the nation. Ishiguro holds a Ph.D. ('18) and M.A. ('12) in Ethnomusicology from Wesleyan University, and the M.M. in Historical Musicology from the University of Massachusetts Amherst ('10). Her publications include articles and reviews in Asian Music Journal, Yearbook for Traditional Music, and Asian Theatre Journal. Ishiguro is a strong exponent of pedagogical techniques that employ both scholarly engagement and praxis within the performing arts. Ishiguro also teaches music at Smith College, Central Connecticut State University, and Yale University.
Shamel Pitts is a performance artist, choreographer, conceptual artist, dancer, spoken word artist, and teacher. Born in Brooklyn New York, Pitts began his dance training at LaGuardia High School of Music & Art and Performing Arts and, simultaneously, at The Ailey School. He is 2003 YoungArts Finalist and a first prize (level one) winner of the YoungArts competition. Pitts then went on to receive his B.F.A. in Dance from The Juilliard School and was awarded the Martha Hill Award for excellence in dance. He began his professional dance career in Mikhail Baryshnikov's Hell's Kitchen Dance and Ballets Jazz Montréal. Pitts danced with Batsheva Dance Company for  seven years under the artistic direction of Ohad Naharin, and is a certified teacher of Gaga movement language. Pitts has created a triptych of multidisciplinary performance art works: BLACK BOX: Little Black Book of RED which was featured in The New York Times, BLACK VELVET: Architectures And Archetypes which received the Audience Choice Award at Stockholm Fringe Festival, and BLACK HOLE: Trilogy And Triathlon which received the CROSS Award Residency IV Edition in Italy. He is an adjunct professor at The Juilliard School and has been an artist in residence at Harvard University. He is the recipient of a 2018 Princess Grace Award in Choreography, and a 2019 New York State Council on the Arts/New York Foundation for the Arts Artist Fellowship Award winner in Choreography. Pitts is a 2020 Guggenheim Fellowship Award winner in Choreography. Pitts is the artistic director/founder of TRIBE, a New York based multidisciplinary arts collective.