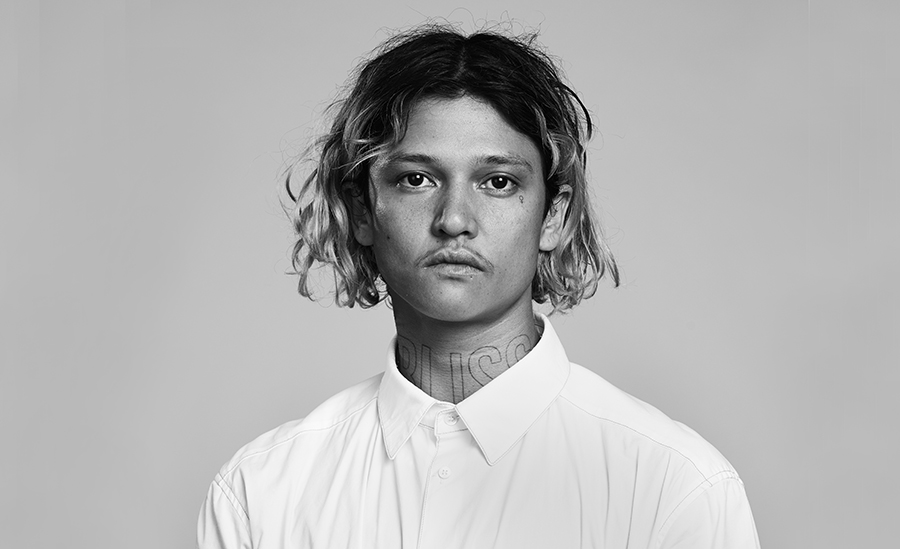 Performance by Tosh Basco (aka boychild) - "Untitled: darkness"
Saturday, November 7, 2020 at 2:00pm

FREE! RSVP required for access to virtual event.
In conjunction with the exhibition A SCULPTURE, A FILM & SIX VIDEOS, Zürich-based performance artist Tosh Basco (aka boychild) will present an online performance, followed by a live conversation between the artist and collaborator Wu Tsang. This performance is part of the Institute for Curatorial Practice in Performance's Performing Artist Case Studies, funded by the Doris Duke Charitable Foundation.

The new work "Untitled: darkness" is made in conversation with the filmic technologies of the camera, screens, and sight. "Untitled: darkness" is a performance in the liminal and interstitial. Part of Basco's "Untitled" series, the performance works with/in and through that which is unseeable, to insist on modes of being that exist outside of generalized conceptions of visibility. How can devotional practices teach us to see through? How might one dance the space between? Through improvisational movement, Basco explores the kinetic dimension of the unseen, traversing and opening up a terrain between language, seeing and touching. 

Tosh Basco is a movement-based performance artist whose work operates through improvisation as a mode of survival and world building in the liminal, performative space where becoming meets representation. Adamant about the visceral experience of live visual performance, she makes a case for how the movement of form can communicate what remains impenetrable in images, and through language. Her performances have been presented at the Gropius Bau, the Venice Biennale, the Sydney Biennial, the Whitney Museum of American Art, MoMA PS1, the San Francisco Museum of Modern Art, the Museum of Contemporary Art Chicago, MOCA Los Angeles, the Stedelijk Museum Amsterdam, ICA London, and Berghain. Tosh Basco has toured with Mykki Blanco, and collaborated with Korakrit Arunanondchai and Wu Tsang, as well as the streetwear label Hood By Air.

Read more about Tosh Basco on the A SCULPTURE, A FILM & SIX VIDEOS exhibition website.

boychild previously gave a talk in the Ezra and Cecile Zilkha Gallery and a performance in the Bessie Schönberg Dance Studio in October 2016 organized by Owen Christoph '18.