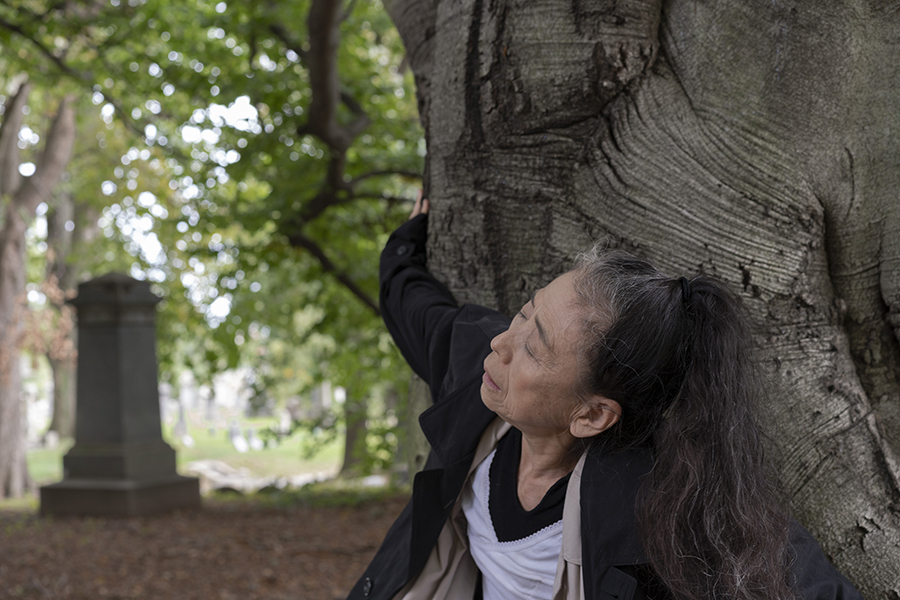 Eiko Otake: An Artist's Practice in the Year of Pandemic and Political Cries
Sunday, November 15, 2020 at 7:00pm
Eiko Otake Virtual Studio

FREE! RSVP required for access to virtual event.
This event will be streamed on both YouTube and Facebook.

Artists around the world continue to make work despite—and often grappling with—the COVID-19 pandemic and political and humanistic cries. Join a tour and post-election conversation in Eiko Otake's Virtual Studio, which expands, re-focuses, and reimagines her and her collaborators' creative practices in 2020. Eiko will be joined by two of her collaborators, DonChristian Jones '12 and Iris McCloughan '10, who will also moderate the discussion.

Invited by the Center for the Arts, Eiko started work on her virtual creative residency in March 2020. Her Virtual Studio is where she posts her new creations, dialogues, and reflections. The studio also includes her work with collaborators and their voices. In working at her Virtual Studio, Eiko says she is no longer content being just a dancer/choreographer. From the studio, she observes and reaches out to the world, the world full of movements—social, political, natural, and emotional. 

If you can, please check her website and view some works before joining this event, so you can have some questions and reflections to offer, as the artists would love to hear your thoughts. Participants will be hearing from artists and from each other. 

Read Eiko's intention in What Is Virtual Studio? and enjoy works created during the COVID-19 pandemic.

Read more about the project from Interim Director Jennifer Calienes on the Center for the Arts blog.



Further reading:

The Kitchen OnScreen Video Viewing Room: archival recordings of two performances by Eiko & Koma, "Trilogy" and "Nurse's Song" (both 1981), with a response by DonChristian Jones '12, "On Boundaries" (originally shown May 15 through June 12, 2020).

The Brooklyn Rail review by George Kan of "Room," Eiko Otake's first Virtual Studio work: "Dancing Alone" (June 2020).

Eiko Otake pens a letter about the future to her late friend Sam Miller '74, Co-Founder of the Institute for Curatorial Practice in Performance, in MoMA Magazine's Performing at a Distance (8/8/20).

Conversations Without Walls: Joan Jonas and Eiko Otake livestream from Danspace Project, moderated by Visiting Instructor in Curatorial Practice in Performance Judy Hussie-Taylor (9/12/20).

The New York Times review by Siobhan Burke: "In This Dance, Death Is Out in the Open." Eiko Otake's performance at Green-Wood Cemetery in Brooklyn honored the ghosts in our midst (9/28/20).

Eiko Otake in conversation with Allison Hsu '19 about "A Body in a Cemetery" from Movement Research's Critical Correspondence (10/30/20).


Image: Eiko at Green-Wood, 2020 0926, No. 0096. Photo by William Johnston.