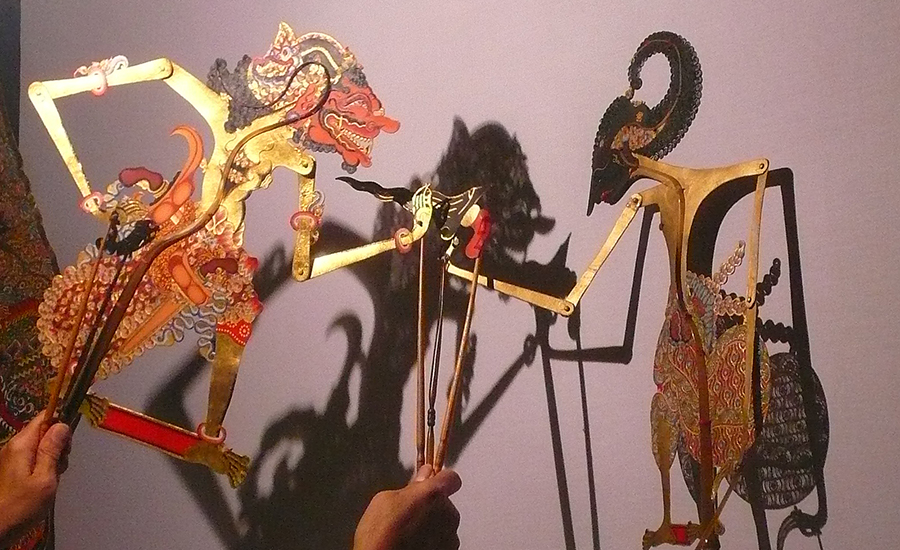 Wesleyan Gamelan Ensemble Virtual Mini-Concert and Demonstration: Wayang Kulit Perang Kembang (The Flower Battle)
Monday, November 16, 2020 at 8:00pm
YouTube

This event will also be streamed on Facebook Live.

While COVID-19 is still with us this semester, the Wesleyan Gamelan Ensemble, under the direction of University Professor of Music I. Harjito and Winslow-Kaplan Professor of Music Sumarsam, offers the fourth in a series of biweekly 30-minute virtual mini-concerts and demonstrations. This concert features the Javanese Wayang Kulit (a shadow-play with flat leather puppets). It is one of the most celebrated dramatic forms in Indonesia. Tonight's mini presentation is an excerpt from the central portion of a usual all-night performance—a prince, Arjuna, is confronted by demons (raksasa) sent by the enemy.
Wayang Kulit Perang Kembang (The Flower Battle)
This Wayang Kulit presentation is an excerpt from the central portion of a usual all-night wayang performance. After the conflicts of the evening's story have been revealed, the hero Arjuna appears, who thinks about a task that he has to carry out. Arjuna is always accompanied by his wise buffoon servants (Semar and his sons Gareng, Petruk, and Bagong), who bring welcome comic relief and an opportunity for often explicit topical reference to current and local affairs. In carrying out his task, Arjuna is confronted by a group of demons sent by the enemy. The hero and villains engage in the Perang Kembang or Flower Battle, a standard section in the highly structured plot development of a wayang performance, in which the puppeteer demonstrates his skill at intricate manipulation of several puppets. Because of his prowess as a warrior and practitioner of samadi extraordinary (self-control), Arjuna is able to dispatch his assailants with simple, refined movements, thus a "flower battle." The demons are repelled and killed.


See full schedule on the Wesleyan Gamelan Ensemble Virtual Mini-Concerts and Demonstrations series page.