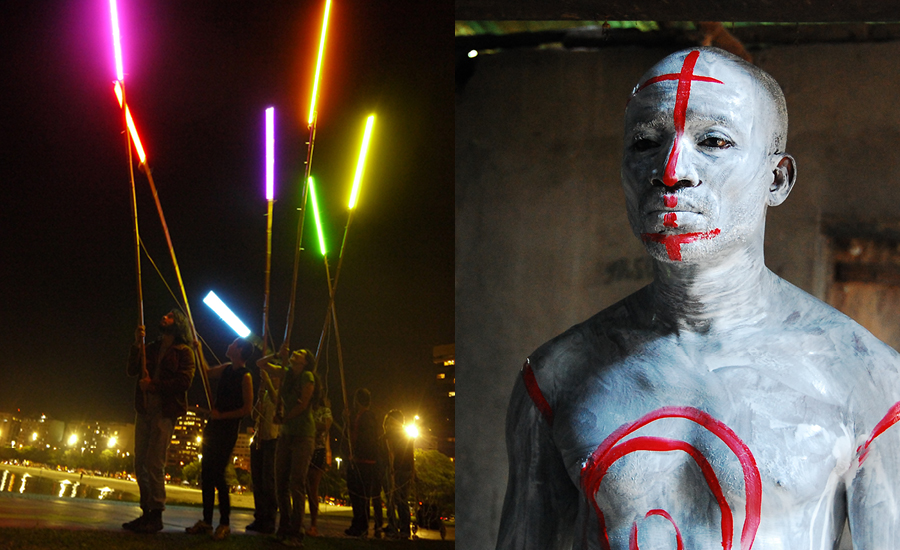 Choreographies of the Archipelago: Artists in Conversation—Eleonora Fabiao and Jelili Atiku
Sunday, December 6, 2020 at 12:00pm
Zoom Webinar
FREE!
Eleonora Fabião and Jelili Atiku will have a live conversation as part of Choreographies of the Archipelago: Artists in Conversation, a series of online exchanges between artists who work across a variety of geopolitical and disciplinary contexts. This event is presented by the Institute for Curatorial Practice in Performance at Wesleyan University with generous support from the Ford Foundation.
PROFILES
Eleonora Fabião is a performance artist and theorist, performing, lecturing, teaching and publishing internationally. Her performative actions have been enacted in several contexts – festivals, exhibitions, sociocultural projects and in the streets. Recent works include: Things That Must Be Done Series (Wall Street, Performa Biennial 2015), MOVIMENTO HO (Centro Municipal de Arte Hélio Oiticica 2016), blue blue blue and blue (Museu Bispo do Rosário 2016), if the title was a drawing, it would be a rotating square (Curitiba Theater Festival 2018), UPRISE(ArtRio 2018), There is a smell of burning in the air – a sci-fi with no fi (Grace Exhibition Space NY 2020). She received the FUNARTE Arts in the Streets Award in 2011 and the Rumos Itaú Grant in 2014, resulting in the publication of the book AÇÕE (Tamanduá Arte 2015). She is an invited artist of the 34ª São Paulo Biennial. 
Jelili Atiku is a Nigerian multimedia artist whose practice addresses political concerns for human rights and social justice. He strives to help viewers understand the world and expand their understanding and experiences, so that they can activate and renew their lives and environments. For decades, Jelili has put his art at the service of the prevailing concerns of our times; especially those that threaten our collective existence and the sustenance of our universe. The contents of these concerns range from psychosocial and emotional effects of the traumatic events in the world. Jelili has participated in numerous performances/exhibitions/talks in Africa, Asia, Europe, and America presenting work at the Marrakech Biennial (2014), the Venice Biennial (2017), and Manifesta (2019). He is 2015 Prince Claus Laureates and in 2016 he was wrongly accused, arrested, detained in prison, and trialed on the instance of his performance in public space. 
Image credit: Marlène Ramírez Cancio
Image credit: Enoh Lienemann