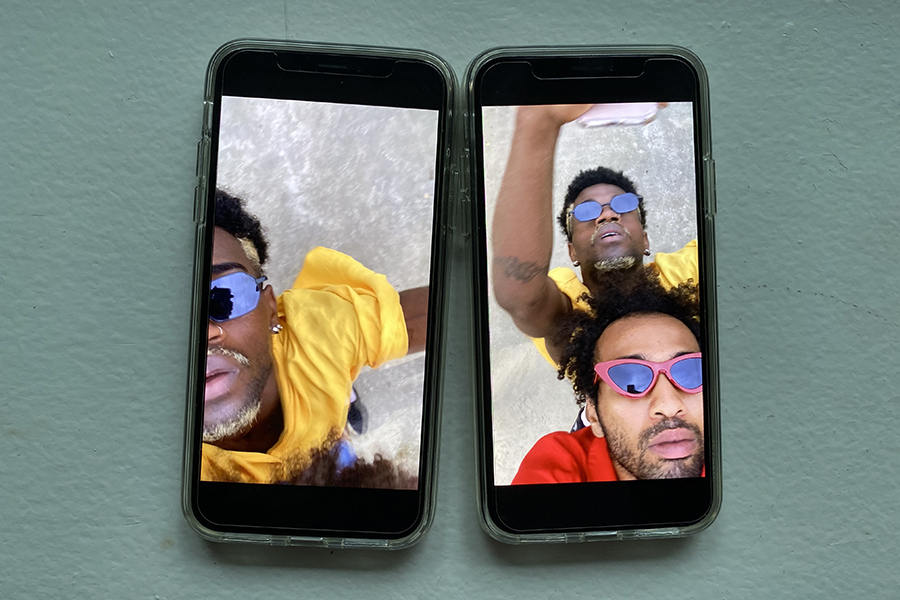 Let 'im Move You: This Is an Invitation
Thursday, February 25, 2021 at 8:00pm
Zoom Webinar
FREE! (Eastern Standard Time)
After registering, you will receive a confirmation email containing information about joining the webinar.
This Is an Invitation is a work in progress, the latest project in jumatatu m. poe and Jermone Donte Beacham's Let 'im Move You decade-spanning series of performance and installation projects. Since 2009, jumatatu and Donte—with an extensive squad of collaborators—have centered their explorations of J-Sette movement and culture to explore recurring themes of intimacy, spectacle, belonging, organization, tenderness, and happiness. These performance and installation projects source J-Sette's legacy of formatting call-and-response choreographies, social hierarchies, sensual and spectacular movement choreographies, and ornate rhythmic structures in order to activate playful and complex images of Black femininity and queer affection. Invitation juggles between two choreographed duets, both filmed at dawn in outdoor locations in Mississippi (Jackson and Hazlehurst) and Bahia (Salvador and Itaparica), respectively. The two duets—jumatatu and Donte in Mississippi, and Sebastião Abreu and Uoston Alcântara in Bahia —are both performed and auto-documented by the respective pairs, each framing self and environment as a means to create the terms for being seen. The project is choreographed by jumatatu and Donte and directed by jumatatu.

This Is an Invitation will be screened along with a lecture demonstration and a conversation between jumatatu m. poe and Jermone Donte Beacham moderated by Deborah Goffe MA '19.
This performance is part of the Institute for Curatorial Practice in Performance's Performing Artist Case Studies, funded by the Doris Duke Charitable Foundation.
PROFILES
jumatatu m. poe
"I am a dance/performance-based artist, educator, organizer, and voyager based in Philadelphia (though frequently 'on the road') who grew up dancing around the living room and at parties with my siblings and cousins. My early exposure to concert dance was through African dance and capoeira performances on California college campuses where my Pan-Africanist parents studied and worked, but I did not start formal dance training until college with Umfundalai, Kariamu Welsh's contemporary African dance technique. My work continues to be influenced by various sources, including my foundations in those living rooms and parties, my early technical training in contemporary African dance, my continued study of contemporary dance and performance, my movement trainings with dancer and anatomist Irene Dowd around anatomy and proprioception, and my sociological research of and technical training in J-sette performance with Donte Beacham. Through my artistic work, I strive to engage in and further dialogues with Black queer folks, create lovingly agitating performance work that recognizes History as only one option for the contextualization of the present, and continue to imagine pathways toward artists' economic and emotional sustainability."

Jermone Donte Beacham
"Dancing has been in my blood since I can remember. It started off with hip hop dancing for my high school—I began to recognize my skill and talent. After four years of that, I was introduced to the world of J-Sette by women. J-Sette historically refers to Jackson State University's female drill team that began in the 1970s. They 'created' the dance style, and thus far have made it a distinctive form of dance. I was interested in this type of dance, but not entirely until I saw a group of males performing it. At that point, I claimed the style for myself and perfected it on my body. Currently, I have my own J-Sette line, Mystic Force, and plan to increase our already considerable renown in this style of dance in our community, and eventually internationally. Previously, I served as co-captain of Dallas' Texas Teasers. I have participated and competed in several events and competitions, including 2 SetteItOff video challenges, Atlanta Pride 2010, Tennessee Classics 2009, and Memphis Pride 2008. In 2015, I was named New Legendary by the Meet Me on the Dance Floor J-Sette council, and have gained many titles since then, such as, Best Dancer and Most Entertaining."
Deborah Goffe
Deborah Goffe is a performer, dance maker, dance educator, performance curator and intermittent video artist. She is founder of Scapegoat Garden, a Hartford-based collaborative dance theater company, which has served as a primary vehicle and creative community through which Deborah has explored the intersection of dance with other media. A graduate of the University of the Arts (BFA, Modern Dance) and California Institute of the Arts (MFA, Dance Performance and Choreography), Deborah earned a Professional Certificate from Wesleyan University's Institute for Curatorial Practice in Performance in 2013 where she explored curatorial practice as a way to nurture the health and vitality of local dance eco-systems.
Photos by jumatatu m. poe, Jermone Done Beacham, Sebastião Abreu, Uoston Alcântara.