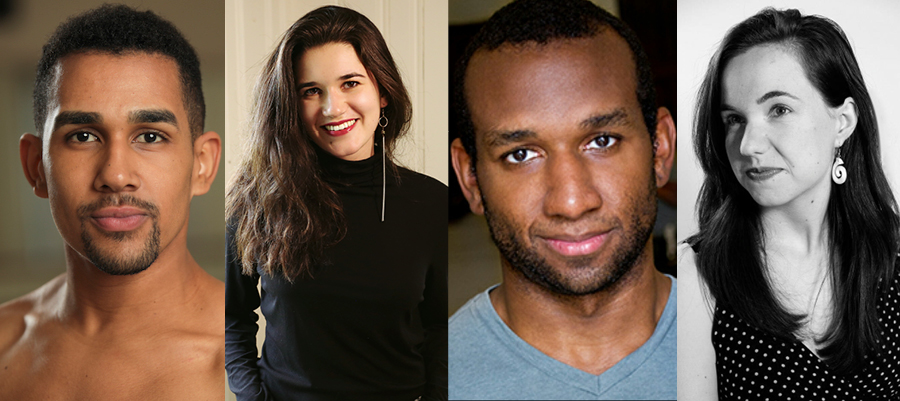 Dance Alumni Chat Series: Anyone Can Dance!
Friday, February 26, 2021 at 12:00pm
Online (Eastern Standard Time)
FREE! RSVP required for access to virtual event.
The Dance Department's inaugural Alumni Chat Series event features four amazing Wesleyan alumni, discussing the benefits of a dance degree and how their dance education at Wesleyan transformed their lives beyond the University. Featuring Ellen Gerdes '05, Eury German '16, Chloe Jones '15, and Nik Owens '12
PROFILES
Ellen Gerdes '05 is currently an Adjunct Faculty member at Temple University. She received her Master's in Dance Education from Temple in 2009 and will receive her PhD in Culture and Performance from UCLA in March 2021. Her research focuses on intersections between choreography and politics in Hong Kong.

Eury German '16 is an artist and educator living in NYC. He graduated with honors from Wesleyan University, where he received his B.A in Biology and Dance in 2016 and furthered his dance education at New York University's Tisch School of the Arts, earning an MFA in Dance Performance/Choreography and Pedagogy in 2018. Born in the Dominican Republic, he moved to the U.S. at age 4, started dancing at 18, and was raised just outside of Boston before permanently relocating to NYC.

Chloe Jones '15 graduated from Wesleyan University in 2015 with a double major in Dance and Hispanic Literatures and Cultures. She is currently Executive Director of The Yard, a dance and performing arts organization on Martha's Vineyard. Her dedication to dance has been lifelong, and her belief in the power of performance grows stronger each year.

Nik Owens '12 began dancing at Wesleyan University where he graduated in 2012 with a BA honors in Dance and a certificate in Environmental Studies. He currently dances with Oluwadamilare (Dare) Ayorinde, Dual Rivet, Kayla Farrish/Decent Structures Arts, Tiffany Mills Company, and David Dorfman Dance. He also is a newly certified personal trainer through the National Academy of Sports Medicine and a well-versed and experienced gymnastics coach of 15 years.
Images above (from left): Eury German, Chloe Jones (photo by Julie Rooney), Nik Owens (photo by Stephanie Crousillat courtesy of Helen Simoneau Danse), Ellen Gerdes (photo by Lindsay Browning).