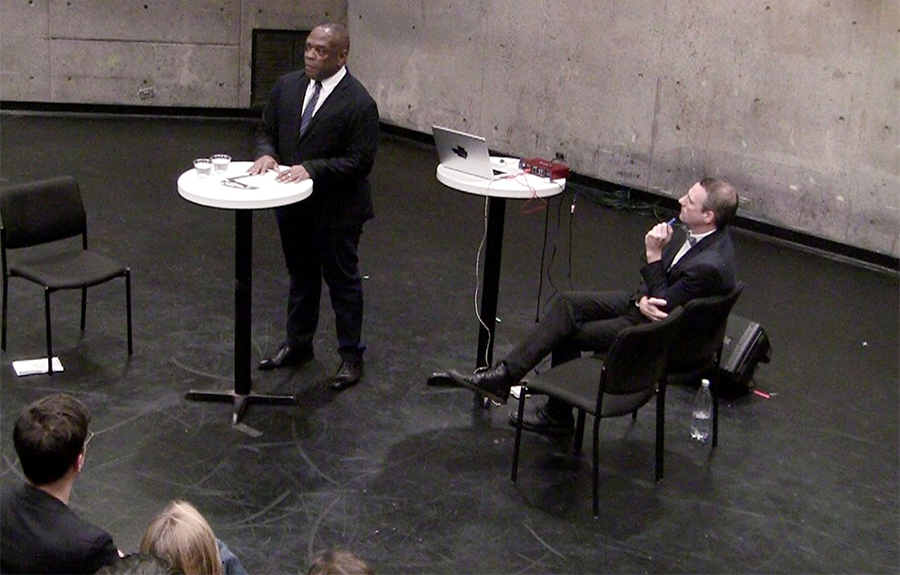 Baldwin and Buckley at Cambridge: A Conversation about History and Process with Elevator Repair Service
Thursday, March 4, 2021 at 8:00pm

RESERVE NOW
FREE! RSVP required for access to virtual event.
"Boisterously entertaining."
—Entertainment Weekly
Actors
Greig Sargeant
and
Ben Williams
and director and
Elevator Repair Service
founder
John Collins
will discuss the development and process of creating their new theater work in progress "Baldwin and Buckley at Cambridge."
In February 1965, writers James Baldwin and William F. Buckley, Jr. were invited to the Cambridge University Union in England to debate the proposition "The American Dream is at the expense of the American Negro." Sargeant and Williams will perform short excerpts from the show, which is a verbatim re-enactment of the debate, and talk with Collins about the origins of the work, how the COVID-19 pandemic disrupted the development process, and how Black Lives Matters has heightened the lens through which audiences will now experience the production.
The members of Elevator Repair Service will also speak about their ensemble-based development process, which includes a broad range of both high- and low-tech design, literary and found text, and innovative choreography. The discussion will be moderated by Assistant Professor of Theater
Katie Pearl
.