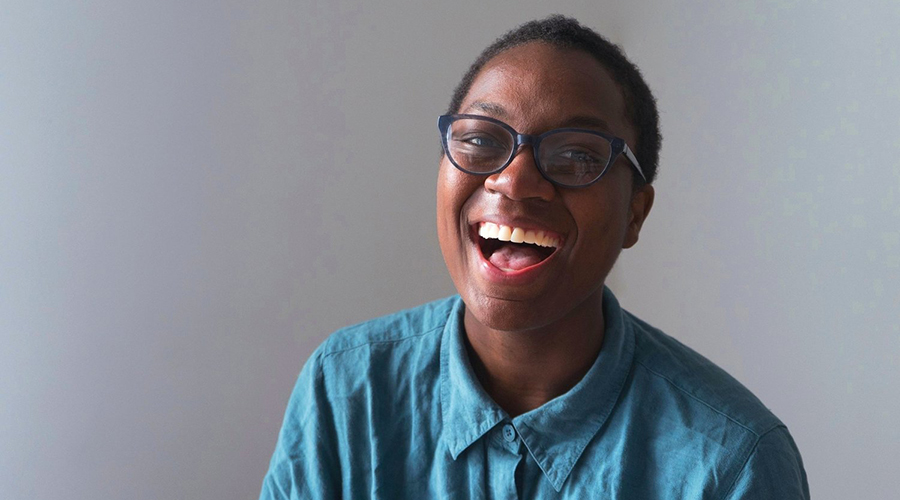 A Conversation with Theater Artist Miranda Haymon '16
Thursday, March 18, 2021 at 8:00pm
YouTube

FREE! RSVP required for access to virtual event.
"Haymon is interested in inclusive, multi-voiced theatre that sparks dialogue."
—American Theatre

For this talk, Miranda Haymon '16 and Sam Morreale '19 will discuss astrology, Berlin, artistic process, and Haymon's upcoming radio play version of Pedro Pietri's The Masses Are Asses (1974), which will be aired on WESU Middletown 88.1FM on both Thursday, May 13 and Thursday, May 20, 2021 at 10pm. Topics will include Blackness, queerness, Brechtian analysis, and more. As theatrical practitioners and performance scholars themselves, Haymon and Morreale will explore theater's relationship to liveness, how the impacts of the pandemic affect artmaking, and Haymon's dreams for their work moving forward. Haymon is the inaugural Breaking New Ground Theater Artist in Residence during the 2020–2021 academic year, a new residency co-hosted by the Theater Department and the Center for the Arts which brings early career BIPOC (Black, Indigenous, People of Color) theater artists to campus. 

Miranda Haymon's residency at Wesleyan University is co-sponsored by the Theater Department, the Allbritton Center for the Study of Public Life, the Center for the Humanities, the African American Studies Department and the Center for African American Studies, and the Center for the Arts.

PROFILES

Miranda Haymon (she/they) is a Princess Grace Award/Honoraria-winning director, writer and curator. Recent projects include A Cakewalk (Garage Magazine & Gucci), Really, Really Gorgeous (The Tank), Everybody (Sarah Lawrence College), In the Penal Colony (Next Door @ New York Theatre Workshop, The Tank) and Mondo Tragic (National Black Theater). Haymon is a Resident Director at Roundabout Theatre Company and The Tank, a New Georges Affiliate Artist, a Usual Suspect at New York Theatre Workshop, a Space on Ryder Farm Creative Resident, member of the Lincoln Center Theater Directors Lab, and the Wingspace Mentorship Program. Haymon has held directing fellowships at WP Theater, New York Theatre Workshop, Manhattan Theatre Club, Roundabout Theatre Company, and Arena Stage. Haymon graduated from Wesleyan in 2016. For more information, please visit www.mirandahaymon.com.

Sam Morreale (they/them) is an advocate and facilitator for QTBIPOC+ (Queer, Trans, Black, Indigenous People of Color) storytellers and makers. Most of their work takes form through producing, directing, and consulting, particularly with a practice rooted in anti-racism and anti-oppression, transformative justice, healing, and harm reduction. They have a unique view of the theatrical landscape, having worked in various capacities throughout the American theater industry quite early in their career. Recent work includes being a Facilitator/Curator for Rattlestick Playwright's Theater Community Conversations, and a Consultant for ART/NY, Center Theatre Group, and Boston Court Pasadena.
RELATED EVENTS
Lunchtime Career Talk with Miranda Haymon '16
Tuesday, April 6, 2021 at Noon
FREE! For Wesleyan students, faculty, and staff. RSVP required for access to virtual event.

Visiting Instructor of Theater Miranda Haymon '16 will discuss their career post-Wesleyan as a freelance artist working in theater, television, film, and commercials, and how COVID-19 has shaped and changed that journey.

Pedro Pietri's The Masses are Asses
Thursday, May 13, 2021 at 10pm
Thursday, May 20, 2021 at 10pm
WESU Middletown 88.1FM
FREE!

The Masses are Asses (1974) by Pedro Pietri is an absurdist satire that exposes issues of social class, parodies the notion of the American Dream, and plays with political parody. This radio play is directed by Visiting Instructor of Theater Miranda Haymon '16.

Photo by Naomi Saito '16.