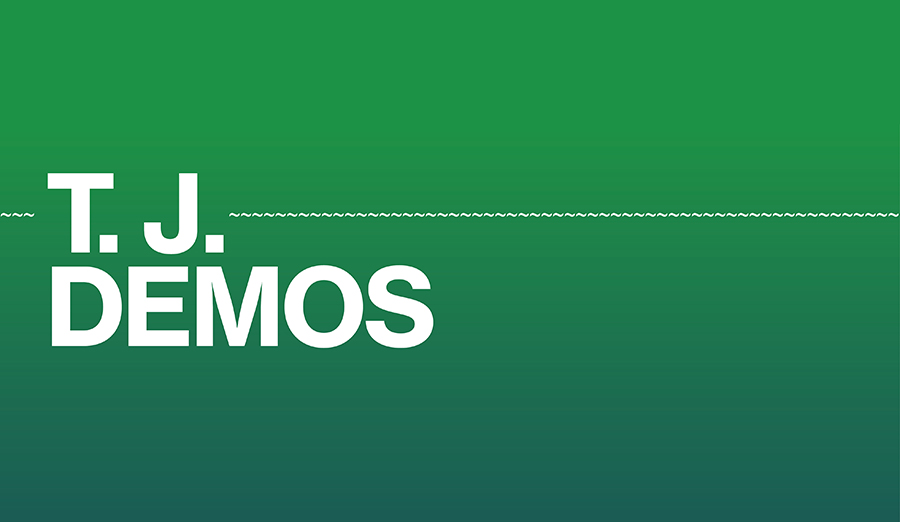 Lecture by T.J. Demos: Climates of Necropolitics–John Akomfrah's "Vertigo Sea"
Wednesday, March 24, 2021 at 4:30pm
Zoom

FREE! RSVP required for access to virtual event.
As the second talk of
Into the Deluge
—an exhibition and series of lectures exploring bodies of water as archives of memory, sites of history, and forms of knowledge—award-winning writer on contemporary art, global politics, and ecology
T. J. Demos
discusses a video project by London-based artist John Akomfrah.
The visionary video projects of London-based artist John Akomfrah—in particular "Vertigo Sea"—expansively reconceive what "climate" means, drawing the term into inextricable relation with sociocultural ecologies of racial capitalism, migration politics, ecocide, and mass species extinction. Presenting a vertiginous visuality of world-ending disasters in racial and more-than-human terms, "Vertigo Sea" offers a cinematic vortex that conjoins necropolitics to geopower. Pitted against the politics of fatalism and spectacle alike, this presentation argues, along with Akomfrah, for emancipatory futures beyond the catastrophe of capitalism's deathly in/humanisms and racial and speciesist objectifications.
T. J. Demos is Patricia and Rowland Rebele Endowed Chair in the Department of the History of Art and Visual Culture, University of California, Santa Cruz, and Director of its Center for Creative Ecologies. He researches the intersection of visual culture, radical politics, and political ecology—particularly where they oppose racial and colonial capitalism—and is the author of several books, including "Beyond the World's End: Arts of Living at the Crossing" (Duke, 2020); "Decolonizing Nature: Contemporary Art and Political Ecology" (Sternberg, 2016); and "Against the Anthropocene: Visual Culture and Environment Today" (Sternberg, 2017). He co-edited "The Routledge Companion on Contemporary Art, Visual Culture, and Climate Change" (2021), was a Getty Research Institute Fellow (spring 2020), and directed the Mellon-funded Sawyer Seminar research project "Beyond the End of the World" (2019-21). He is presently working on a new book on radical futurisms.
Into the Deluge
is organized by
John Hulsey
, Andrew W. Mellon Postgraduate Research Fellow in Interdisciplinary Arts Practices at Wesleyan University. It is sponsored by the Allbritton Center for the Study of Public Life with co-sponsorship from the Office of Academic Affairs, the Samuel Silipo '85 Distinguished Visitor's Fund of the Department of Art and Art History, Writing at Wesleyan, Caribbean Studies, College of Film and the Moving Image, Department of African American Studies, Center for African American Studies, Department of American Studies, and Wesleyan University Press.