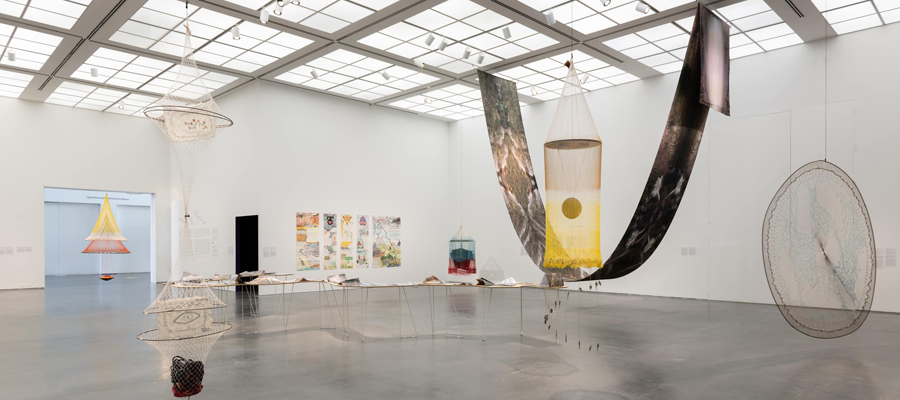 Artist Talk by Carolina Caycedo: From The Bottom of the River
Wednesday, April 7, 2021 at 4:30pm
Zoom
FREE! RSVP required for access to virtual event.
As the third talk of Into the Deluge—an exhibition and series of lectures exploring bodies of water as archives of memory, sites of history, and forms of knowledge—multidisciplinary artist Carolina Caycedo will talk about her work.
Carolina Caycedo (born 1978, London) is a multidisciplinary artist based in Los Angeles. Born to Colombian parents, Caycedo's art practice is based on environmental research focusing on the future of shared resources, environmental justice, fair energy transition, and bio-cultural diversity. Through contributing to community-based construction of environmental and historical memory, she seeks the ways of preventing violence against human and non-human entities. Her immense geographic photographs, lively artist's books, colorful hanging sculptures, performances, videos, and installations, are not merely art objects, but gateways into larger discussions about how we treat each other and the world around us. She confronts topics such as the privatization of rivers and other bodies of water, territorial rights of Indigenous groups, and the environmental, economic, social, and spiritual impacts of extractive industries on local communities.
She has developed publicly engaged projects in major cities across the globe, participated in several international biennials, and has held residencies at The Huntington Library, Art Museum, and Botanical Gardens in San Marino, California, and DAAD artists-in-Berlin program, among many others. Her first major monograph (2021) was published by DelMonico Books and the MCA Chicago, on occasion of her solo museum exhibition From the Bottom of the River at the MCA. Caycedo is an Inaugural Borderlands Fellow at the Center for Imagination in the Borderlands at Arizona State University, and the Vera List Center for Art and Politics at The New School.
Into the Deluge is organized by John Hulsey, Andrew W. Mellon Postgraduate Research Fellow in Interdisciplinary Arts Practices at Wesleyan University. It is sponsored by the Allbritton Center for the Study of Public Life with co-sponsorship from the Office of Academic Affairs, the Samuel Silipo '85 Distinguished Visitor's Fund of the Department of Art and Art History, Writing at Wesleyan, Caribbean Studies, College of Film and the Moving Image, Department of African American Studies, Center for African American Studies, Department of American Studies, and Wesleyan University Press.
Image: Installation view, Carolina Caycedo: From the Bottom of the River, MCA Chicago, December 12, 2020–September 12, 2021. Photo by Nathan Keay, © MCA Chicago