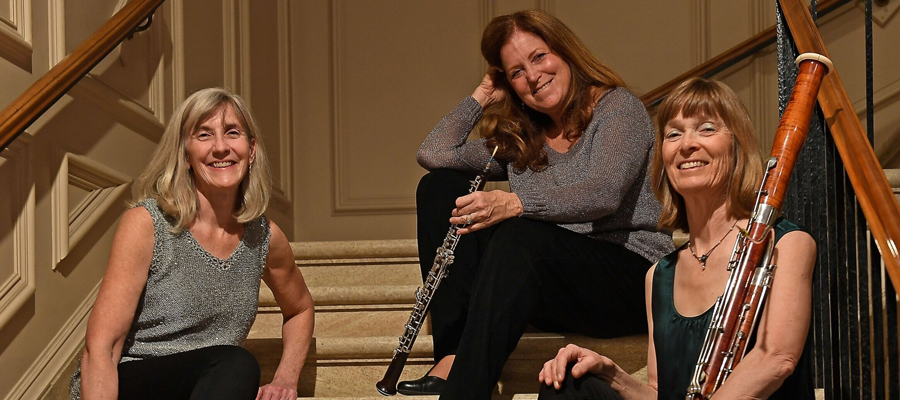 Music at The Russell House: Lucience
Thursday, April 22, 2021 at 4:00pm
WESU Middletown 88.1FM

As part of the
"Music at The Russell House"
series at Wesleyan University's Center for the Arts, WESU Middletown 88.1FM will broadcast a virtual concert by the chamber ensemble
Lucience
. Each program will be available to stream from
WESU's show archives
for two weeks following the broadcast.
Stream this episode from the WESU archives here.
Lucience, a word suggesting clarity, translucence, and shine, is a chamber ensemble dedicated to sparkling and radiant performances. Two dramatic double reed instruments, the oboe and bassoon, join with a piano for lively and committed music making. Lucience musicians, Wesleyan Oboe Instructor
Libby Van Cleve
, bassoonist
Rebecca Noreen
, and pianist
Patrice Newman
, met and continue to perform together as faculty members at Connecticut College. Their personal and musical friendship leads them to many collaborations as Lucience, a trio committed to vibrant and engaging live performances.
The trio will perform the following program with conversations in between pieces:
Madeleine Dring - Trio for Oboe, Bassoon and Piano,
Drammatico, Allegro moderato e deciso
Conlon Nancarrow - Trio #2 for Oboe, Bassoon and Piano
William Grant Still -
Bayou Home
for Oboe and Piano
Andre Previn - Sonata for Bassoon and Piano 2,
Slow Waltz tempo
Jeffrey Perry - Overture in the Anatid Style for 2 Oboes, English horn and 2 Bassoons
Frances Poulenc - Trio pour Hautbois, Basson et Piano, II.
Andante
Jack Vees -
Lines of Desire
for English Horn, Bass Clarinet and Bassoon
Madeline Dring - Trio for Oboe, Bassoon and Piano Allegro con brio
The virtual concert on WESU will be followed at 5pm by a Zoom reception and
After Party with the Composers
with the ensemble, Jack Vees, and Jeffrey Perry discussing the performances, answering questions, and hearing comments.