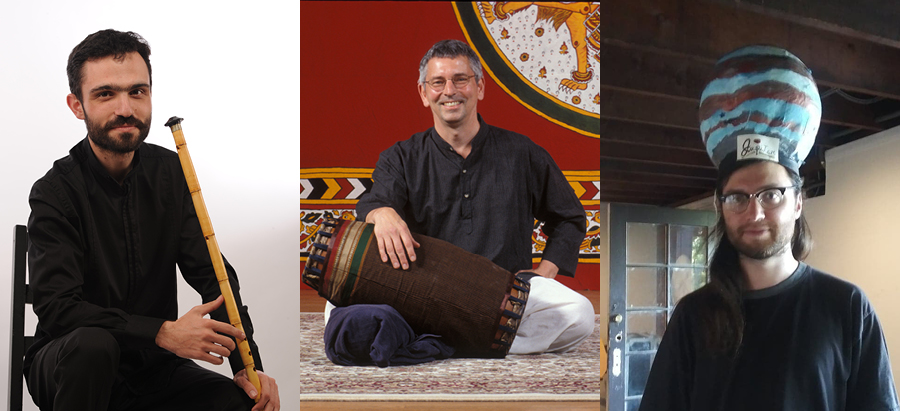 Graduate Music Series: Installment Two
Wednesday, April 28, 2021 at 8:00pm
YouTube

FREE!
The Graduate Music Series showcases the performance, compositional, and research capabilities of graduate music students, alumni, and other affiliates.

The second installment this spring will feature presentations by current graduate student Ridvan Aydinli  ("A journey in makam") and alumnus and Adjunct Associate Professor of Music David Nelson Ph.D '91 ("Karnatak Drumming: thinking beneath the surface").
PROGRAM
Ridvan Aydinli
A journey in makam
Is makam more than just a scale? Rıdvan Aydınlı presents the key concept of the Ottoman/Turkish makam tradition, namely, seyir. This presentation will feature short excerpts from the classical instrumental and vocal repertoire as well as brief improvisations (taksim).

David P. Nelson
Karnatak Drumming: thinking beneath the surface
David Nelson will demonstrate ways of using solkattu (spoken rhythm) to de-mystify (or re-mystify) some Karnatak drumming compositions.


PROFILES
Ridvan Aydinli is a masters student in ethnomusicology, ney (flute) player, and singer. His musical and research interests include Ottoman/Turkish music, Byzantine music and notation, improvisation, and transformation of musical traditions. He received his B.A. degree in Economics at Boğaziçi University, and an M.A. degree with the thesis "The usul concept in Karamanlidika sources of Ottoman/Turkish music" in the Department of Turkish Religious Music at Marmara University, Istanbul, Turkey. Aydinli has performed concerts and recorded albums with various ensembles in several countries. Their third album with Lâmekân Ensemble is going to be released in May 2021.

David Nelson, mṛdaṅgam, began his studies with C. S. Sankarasivam in 1970. He learned briefly with Ramnad V. Raghavan, and for fourteen years with T. Ranganathan, first at the California Institute of the Arts (M.F.A. '75), then at Wesleyan University (Ph.D. '91). He also studied kanjira (frame drum) with G. Harishankar, and jazz drumset with Ed Blackwell, Ed Soph, and Kenwood Dennard. He is Adjunct Associate Professor in Music at Wesleyan University, where he teaches South Indian drumming. He has accompanied leading Indian artists in the United States, Europe, India, and China. His publications include extensive writings on South Indian drumming in the article "Karnatak Tala" published in The Garland Encyclopedia of World Music Vol. 5 South Asia: The Indian Subcontinent, in his two books Solkattu Manual: An Introduction to the Rhythmic Language of South Indian Music and Konnakkol Manual, and his dissertation "Mridangam Mind: The Tani Avartanam in Karnatak Music." His article "Three Generations, Three Directions," appears in Vol. 42 of The Journal of the Indian Musicological Society. In 2013 he was honored with the title "Kala Seva Mani" by the Cleveland Tyagaraja Festival, and in 2016 received the "Padmashree Palghat Raghu Memorial Award" from the Neelakanta Sivan Cultural Academy in Chennai. For more information, please visit David Nelson's website.