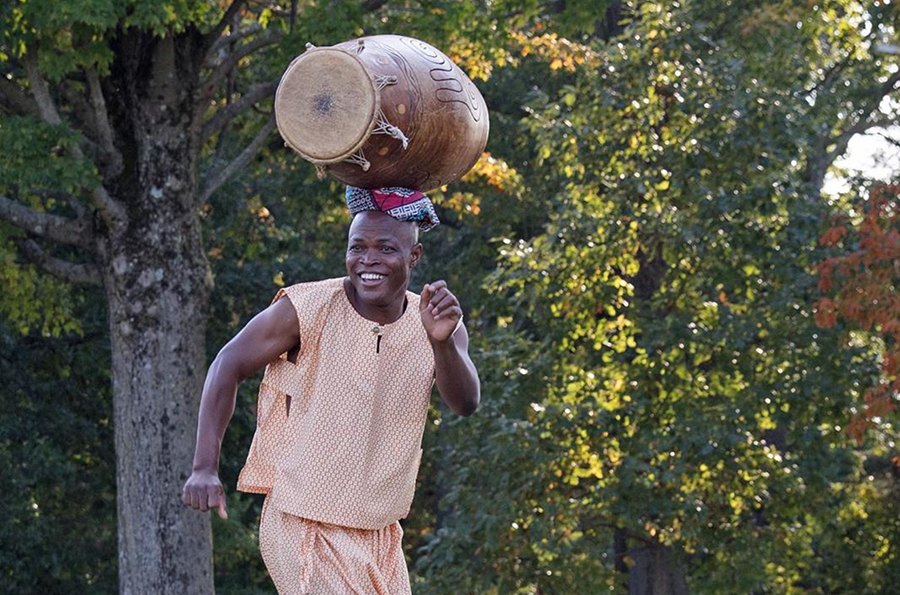 Dance Workshop: Embodied Global Storytelling at Wesleyan's Dance Department
Monday, May 17, 2021 at 6:00pm
The Regina A. Quick Center for the Arts at Fairfield University

The Dance Department at Wesleyan University is pioneering pedagogical approaches to ways in which non-European dance forms are front and center. Department Chair and Professor of Dance and Feminist, Gender, and Sexuality Studies Hari Krishnan, Visiting Assistant Professor of Dance and African American Studies Joya Powell, and Assistant Professor of Dance Iddi Saaka will explore their individual approaches of rooting their work in accessibility, and question how we create and nurture a space where dance is both cathartic and transformative.
This engagement will include embodying short movement explorations of bharata natyam gestures, Ghanaian movement vocabulary, and African diasporic dance theater approaches, as well as video excerpts from previous works of the artists. Krishnan, Powell, and Saaka will also discuss the importance of embodied movement, dance as resistance, and deconstructing Ghanaian social structure through dance, respectfully. Their work as choreographers and professors is grounded in practice, politics, negotiating rigor into humanity, and the universality of storytelling through movement. Experience and learn about their processes in this multifaceted workshop.

This technique workshop is hosted by the Regina A. Quick Center for the Arts at Fairfield University and the Connecticut Dance Alliance.


The Quick Live - CTDA: Wesleyan 5/17 @ 6PM from Fairfield University on Vimeo.


CT Dance Now! is a series of ten virtual dance events hosted by Connecticut Dance Alliance in partnership with Connecticut University and collegiate dance departments. No pre-registration is needed, simply go to The Quick Live website for each event. Events consist of performances, discussions, and classes offered by dance professionals, artists, and educators representing dance across the state.

The CT Dance Now! series is free. The programs and events are supported by membership and tax-deductible donations. For Connecticut Dance Alliance memberships and donations and to learn more about events, workshops and presenters, please visit their website.