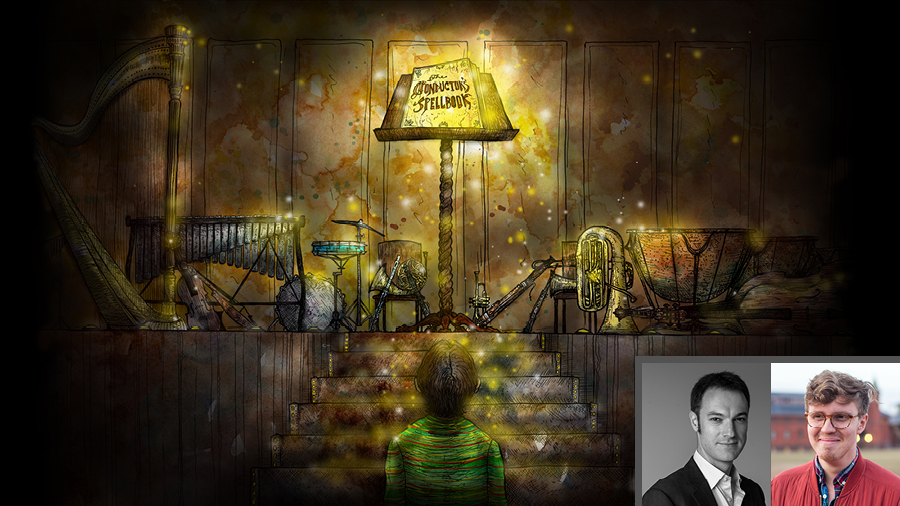 Wesleyan University Orchestra Children's Concert: The Conductor's Spellbook
Friday, May 28, 2021 at 12:00pm
YouTube

FREE!
The Wesleyan University Orchestra, under the direction of Adjunct Associate Professor of Music Nadya Potemkina, presents Paul Dooley's The Conductor's Spellbook (2016), an exciting concert experience that introduces audiences to music, orchestral instruments, and conducting. The Conductor's Spellbook tells the magical story of young Tony Stradivarius who, during a field trip to the symphony, finds a powerful book of spells and uses it to control the orchestra. Narrated by Payton Millet '21. Illustrations by Tanner Porter.

This virtual concert will be available to view online from noon on Friday, May 28 through noon on Monday, May 31, 2021.
ABOUT THE COMPOSER
Paul Dooley is one of the most prolific and performed composers in America today. His path has embraced not only his western classical heritage, but also a cross-cultural range of contemporary music, dance, art, technology, and the interactions between the human and natural worlds. His music has been described as "impressive and beautiful" by American composer Steve Reich. Dooley's orchestral music has been commissioned and performed by, among many others, the Nashville Symphony, Detroit Symphony, Singapore Symphony, Macau Orchestra, Pacific Symphony, Charlotte Symphony, Cabrillo Festival Orchestra, Buffalo Philharmonic, United Nations Chamber Music Society, Omaha Symphony, Charleston Symphony Orchestra, Grand Rapids Symphony, Santa Rosa Symphony, Beethoven Academy Orchestra, Radom Chamber Orchestra, Amarillo Symphony, New York Youth Symphony, Aspen Philharmonic Orchestra, Nu Deco Ensemble, and Alarm Will Sound, in addition to wind ensembles such as "The President's Own" United States Marine Band, the United States Army Band "Pershing's Own," and the United States Navy Band. Recent works include Circuits and Skins (2017), an electronic dance music-inspired electronic percussion concerto for Lisa Pegher and the Lansing Symphony, Mondrian's Studio (2019) for horn and wind ensemble for Adam Unsworth and the University of Michigan Symphony Band, Manifestos (2019) for the universities of the Big 12 conference, and The Conductor's Spellbook (2016), an educational, interactive, and entertaining work for young audiences which has received more than 60 performances since its premiere, originally commissioned by the Naples Philharmonic. Born in Santa Rosa, California in 1983, Dooley began his musical life listening to Beethoven, Bruce Hornsby, Nirvana, and Rush. At the age of thirteen, Dooley began a long mentorship with singer, songwriter, improviso,r and gifted counselor Gary "Doc" Collins. In high school Dooley also studied composition with Charles Sepos, before earning bachelor degrees in mathematics and music composition at the University of Southern California (2002–2007) with Frank Ticheli and Stephen Hartke, and a master and doctorate degree at the University of Michigan (2007–2013) with Michael Daugherty, Bright Sheng, and Evan Chambers. A key moment occured for Dooley in 2010, with his participation in the inagural Mizzou International Composers Festival. The festival commissioned Dooley's breakout work Point Blank, which was premiered by the new music ensemble Alarm Will Sound. In 2013 Dooley joined the music faculty at the University of Michigan. He created and directs the Performing Arts Technology department's annual Computer Music Showcase. He also co-directed the Midwest Composers Symposium, and was coordinator of the "ONCE. MORE." festival, a celebration of the 50 year anniversary of the ONCE Festival of Contemporary Music, and was co-awarded a grant from the Gilbert Whitaker Fund for the Improvement of Teaching. Dooley's music is the subject of several doctoral dissertations including "Paul Dooley's Masks and Machines: A Formal Analysis and Instructional Guide" by Kevin M. Callihan, University of Kentucky; "MANIFESTOS for Wind Ensemble by Paul Dooley: A Critical Analysis" by Eddie W. Airheart, Texas Christian University; and "A Conductor's Guide and Analysis of Selected Works by Paul Dooley" by Jason Gardner, University of Illinois. Dooley is a frequent guest of professional orchestras, university wind ensembles, and festivals in the United States and around the world. His works have been performed in significant venues including Carnegie Hall, Walt Disney Concert Hall, Royce Hall, Hill Auditorium, the Segerstrom Center for the Arts, Schermerhorn Symphony Center, Orchestra Hall in Detroit, Sala Filharmonia Warszawa, Singapore's Victoria Concert Hall, and Chicago's Symphony Center, and featured on several episodes of NPR's "Performance Today" with Fred Child. Dr. Dooley has received a wide range of awards for his work, including both the 2016 Sousa/ABA/Ostwald Award and the 2015 William D. Revelli Prize for Masks and Machines (2015), the 2013 Jacob Druckman Award for orchestral composition from the Aspen Music Festival for Point Blank (2011), and young composer awards from Broadcast Music Inc. (BMI) for Dani's Dance (2007) and the American Society of Composers, Authors and Publishers (ASCAP) for Gradus (2009). Dooley's recordings can be heard on, among others, Naxos, Equilibrium, Soundset, Mark Records, GIA Wind Works, and Block M Records. Dooley's music is published by Paul Dooley Music. For more information on his music, visit www.pauldooley.net and www.conductorsspellbook.com.
Images above (from left): Illustration by Tanner Porter for The Conductor's Spellbook, Paul Dooley, Payton Millet '21.