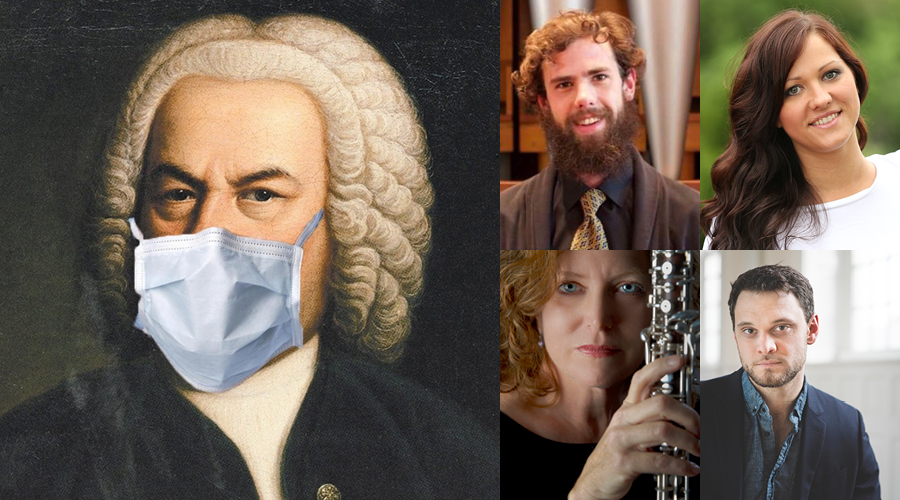 The Ad Hoc Bach Collective: "For the Love of Bach" Vol. 7
Sunday, May 23, 2021 at 12:00pm
YouTube

FREE!
The Ad Hoc Bach Collective, featuring Wesleyan student/faculty/staff/alumni/community members, presents volume seven in their continuing series of concerts "For the Love of Bach." The onset of the COVID-19 pandemic in the spring of 2020 meant that collective rehearsals and performances were no longer possible. Ad Hoc Bach rose to the occasion by devising a socially distanced concert-like experience. The Ad Hoc Bach Collective is especially indebted to St. Peter Church in Higganum, Connecticut, and StudioTeo in New Haven, Connecticut, for providing performance and recording spaces. This virtual concert with program notes is available to view now on YouTube.
Ad Hoc Bach Collective

The Wesleyan University Concert Choir 
Karolina Wojteczko, mezzo-soprano
Richard Franklin Donohue, tenor
Harrison Hintzsche, baritone
Oboe Instructor Libby Van Cleve, oboe
Marianne Vogel, violin
Sarah Washburn, violin
Chamber Music Ensemble Director John Biatowas, viola
Alex Waterman, cello
Bass Instructor Roy Wiseman, bass
Noah Michael Smith, harpsichord and organ
Adjunct Associate Professor of Music Nadya Potemkina, conductor
Ad Hoc Bach Spring 2021 Soloists

Karolina Wojteczko, mezzo-soprano
A Connecticut local, Karolina Wojteczko has been singing in New Haven area churches since shortly after immigrating to the U.S. at age twelve from the small town of Dabrowa Bialostocka, Poland. She is a cantor at Saint Thomas More Chapel at Yale and Saint Catherine Church in Trumbull, Connecticut. She holds a Bachelor of Music in Vocal Performance from Western Connecticut State University, and a Master of Music from Yale School of Music and Institute of Sacred Music at Yale. Ms. Wojteczko is the recipient of numerous scholarships and awards including the James Somer Opera Scholarship, Schoolmasters Special Scholarship, the Metropolitan Opera National Council La Camera Guida Award (New England Region), first place winner at the James Furman Competition, Opera Moderna Scholarship, and the  International Opera Performing Experience Scholarship; and has been a finalist of the Heida Hermann International Competition and the Mirabell Competition in Salzburg, Austria. Ms. Wojteczko's most recent performances include Brahms's Alto Rhapsody, Mozart's Requiem, and Mendelssohn's Elijah. She is currently working on recording children's opera Hansel and Gretel by Humperdinck and teaches music at St. Mary—St. Michael School in Derby, Connecticut.

Richard Franklin Donohue, tenor
Richard Franklin Donohue is the Town Historian of his hometown of Cromwell, Connecticut.  As President and Director of Programs of the Cromwell Historical Society for sixteen years and a teacher in both public and private schools for 25, he strives to enhance his town's interest and participation in local and national history. His original research has formed the basis of museum exhibits, traveling lectures, and living history programs on topics ranging from 18th century slavery and Civil War-era subscription balls to early 20th-century marine engines. He has developed and presented historical walking tours of Cromwell and writes a monthly article, "Rosetown Review," in the Cromwell Life newspaper. He has visited all of the 169 towns in Connecticut in order to create a complete catalog of all of the state's World War I Memorials, and has recently begun a similar endeavor focusing on Revolutionary War memorials. He studied Music at the University of Connecticut and is especially fond of the work of Johann Sebastian Bach. He has been teaching piano, voice, and music theory in Cromwell since 1992. 

Harrison Hintzsche, baritone
"Sonorous" (Opera News) and "suave" (parterre box), American baritone Harrison Hintzsche is a recitalist, concert singer, and ensemble musician. He has been praised for his warm lyric tone, musical subtlety, and dedication to text. In January 2018, he made his international debut at London's Wigmore Hall in a collaborative art song recital with pianist and scholar Graham Johnson as a part of Johnson's recital series "Franz Schubert: The Complete Songs," and was noted by Opera Today for displaying a "strong sense of narrative" and "gentle poignancy" in his interpretations of Schubert's work. He placed first in the Edvard Grieg Society of Minnesota's 2018 Voice Competition, and was the first-ever recipient of the William H. Halverson Award, presented by the Edvard Greig Society of America for an outstanding performance of Grieg's music. He has interpreted a wide range of concert and oratorio repertoire, such as Handel's Messiah, Mozart's Requiem, and Finzi's In Terra Pax, as well as a plethora of cantatas by J.S. Bach. He holds degrees from the Yale School of Music, the Yale Institute of Sacred Music, and St. Olaf College. He is a native of DeKalb, Illinois.

Libby Van Cleve, oboe
Described as "expert" by The Washington Post, "dazzling" by the San Francisco Chronicle, and "absolutely exquisite" by Paris Transatlantic, Libby Van Cleve's most extreme epithet was from the The Hartford Courant which dubbed her "the double reed queen of the new music world." Van Cleve is recognized as one of the foremost interpreters of chamber and contemporary music for the oboe. In addition to her many recordings, she is the author of Oboe Unbound: Contemporary Techniques, published by Rowman and Littlefield, and the editor of the newly published Six Suites by J.S. Bach in a version for solo oboe published by T.D. Ellis Music Publishing and available through TrevcoMusic.com and TheMusicSource.org.