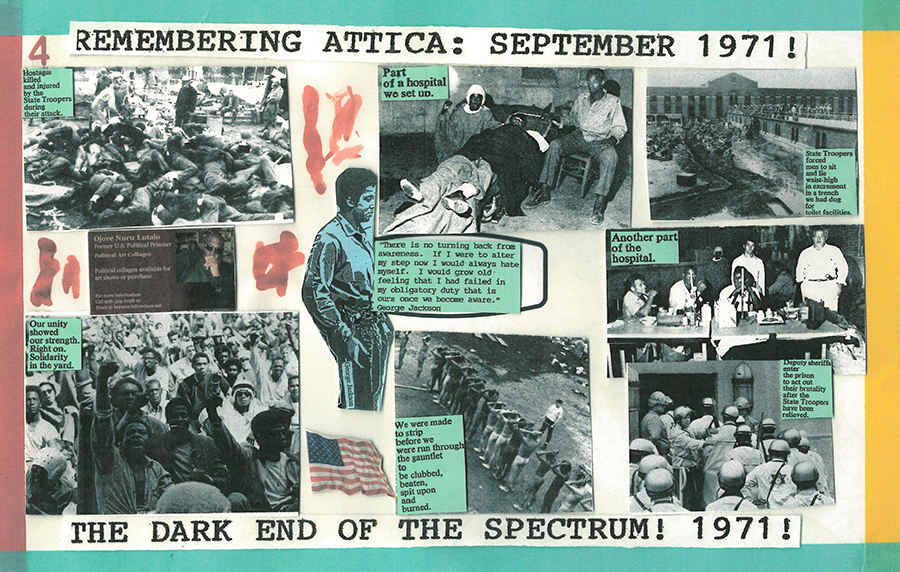 Gallery Tours with Artist - Behind Enemy Lines: The Prison Art of Ojore Lutalo [DATE CHANGE]
Wednesday, September 22, 2021 at 6:00pm
South Gallery, Ezra and Cecile Zilkha Gallery

FREE! For Wesleyan students, faculty, and staff.
Artist
Ojore Lutalo
will give tours of 
"Behind Enemy Lines: The Prison Art of Ojore Lutalo,"
an exhibition of his prison protest art which will include work he made during two decades in solitary confinement, on Wednesday, September 22, 2021 from 6pm to 8pm. These mini-tours with small groups will be held at 20 minute intervals on a first-come, first-served basis. 
Please note that due to COVID-19 safety protocols, this event will not include food or drinks.
Ojore Lutalo, a member of the Black Liberation Army, spent 22 of his 28-year prison sentence in a variation of solitary confinement called a "management control unit." One of the tactics Lutalo devised to survive those years of "no-touch torture" was to construct the collages featured in this exhibition as an ongoing act of political resistance.
"As a revolutionary I had to come to terms with the prospect of death in captivity," said Lutalo. "I was a political prisoner, a prisoner of war. I took on the state. Their goal was to break me psychologically. They wanted to destroy my mind. Making these collages helped me maintain my sanity."
The exhibition, curated by Professor and Chair of the Theater Department
Ron Jenkins
, will be on display at Wesleyan from Tuesday, September 21 through Sunday, October 17, 2021.
The general public will be welcomed back to Wesleyan this fall to enjoy Center for the Arts outdoor programming and exhibitions in both the Ezra and Cecile Zilkha Gallery and the College of East Asian Studies Gallery at Mansfield Freeman Center. All patrons must adhere to and follow the University COVID-19 safety guidelines. Wesleyan requires all visitors to be fully vaccinated. All visitors will need to provide proof of having been fully vaccinated. Public health officials consider an individual to be fully vaccinated two weeks after their final dose of a COVID-19 vaccine. Masks are required in all University buildings regardless of vaccination status.
Indoor performances as well as special events, including opening receptions in the galleries, will be open to Wesleyan students, faculty, and staff.
Vaccinated visitors may attend outdoor events and outdoor activities unmasked. Patrons under the age of 12 are required to wear a mask at outdoor events. Due to current CDC age limits on vaccinations, individuals under the age of 12 will not be permitted at indoor exhibitions.
This event and exhibition are part of
"Remembering Attica: Legacy of a Prison Revolt,"
a series of events at Wesleyan commemorating the Attica anniversary, including lectures, films, and
the world premiere performance of "Echoes of Attica" on Sunday, September 12, 2021 at 3pm in Ring Family Performing Arts Hall
.
Lutalo's collages were recently displayed at MoMa's PS1 gallery in Queens as part of the exhibition "Marking Time: Art in the Age of Mass Incarceration" from September 2020 through April 2021.
Made possible with support from the Wesleyan University Departments of Music, Film Studies, Theater, and History, the Art Studio Program of the Art and Art History Department, the African American Studies Program, the Science in Society Program, the Feminist, Gender, and Sexuality Studies Program, the Center for Pedagogical Innovation, the Center for the Arts, the Allbritton Center for the Study of Public Life, and the Provost's Equity Advisory Board. Special thanks to the Healing Justice and Prison Watch Programs of the American Friends Service Committee in New York and New Jersey.
Image: artwork by Ojore Lutalo.